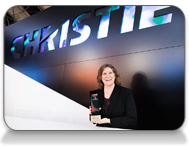 This award is a testament to the commitment and innovative thinking of everyone at Christie.
Cypress, California (PRWEB) February 20, 2016
Christie®, a leader in creating and sharing the world's best visual and audio experiences, earned two prestigious awards at ISE 2016. The Christie Boxer 4K30 captured the award for 'Most Innovative Projector' from InAVate magazine, and Executive Vice President Jennifer Smith was named 'Technologist of the Year' by AV News.
The 'Technologist of the Year' award recognizes industry leaders whose expertise advances technology for the benefit of the industry. "This award is a testament to the commitment and innovative thinking of everyone at Christie, and a reflection of the collaboration within the industry as a whole," said Smith. "To be recognized with this award is an honor and I want to offer my gratitude to AV News."
In her role as executive vice president, Smith is responsible for the identification of customer and market needs for Christie's key areas of business, and the strategy to meet those needs for corporate growth. Smith pushes beyond the limitations of today's technology and markets by taking well-calculated risks, which included spearheading the introduction of Christie Boxer.
Christie Boxer Series wins Most Innovative Projector award
The Christie Boxer 4K30 earned the title of 'Most InAVative Projector' from InAVate magazine during the annual ISE Show. The award was presented at the Gashouder, Amsterdam.
The Christie Boxer 4K30 is a 30,000 lumen, 4K resolution, 3DLP® projector designed for high impact live events. With intelligent design and feedback, Christie Boxer 4K30 is the most profit-focused professional projector in the market that delivers an unprecedented user experience every time.
"Since introducing Boxer at ISE last year, we have seen its enormous impact on the market and we are thrilled to be recognized by InAVate with this award," said Mike Garrido, senior product manager, Christie.
About Christie®
Christie Digital Systems USA, Inc. is a global visual and audio technologies company and is a wholly-owned subsidiary of Ushio, Inc., Japan, (JP:6925). Consistently setting the standards by being the first to market some of the world's most advanced projectors and complete system displays, Christie is recognized as one of the most innovative visual technology companies in the world. From retail displays to Hollywood, mission critical command centers to classrooms and training simulators, Christie display solutions and projectors capture the attention of audiences around the world with dynamic and stunning images. Visit http://www.christiedigital.com.