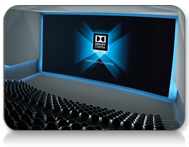 Combined with Christie's 6P modular laser light sources, this technology delivers the high-contrast images and ultra-brightness that define Dolby Vision
San Francisco,California (PRWEB) February 23, 2016
Dolby Laboratories, Inc., Christie®, and Necsel were honored last night at the 2016 Prism Awards for Photonics Innovation with an award in the Displays & Lighting category for the firms' collaboration on the Dolby Vision™ laser projection system.
The Dolby Vision projection system uses state-of-the-art optics and image processing to deliver high dynamic range with enhanced color technology and a contrast ratio that far exceeds that of any other image technology on the market today. The result is a richer, more detailed viewing experience that delivers strikingly vivid and realistic images and makes viewers feel like they are in the movie's world.
"Dolby is extremely honored to be a recipient of the 2016 Prism Award for Displays and Lighting which is a testament to the science and engineering expertise delivered by the talented teams from Dolby, Christie and Necsel," said Doug Darrow, Senior Vice President, Cinema Business Group, Dolby Laboratories. "Our mission has always been to advance the science of sight and sound with technology that makes entertainment more engaging. The Dolby Vision laser projection system, an integral part of Dolby Cinema, does just that by enabling filmmakers to bring their stories to life onscreen."
"Christie congratulates our partner Dolby and our laser-device supply partner Necsel on the collaboration between our firms, which led to the design of a superior, unique projection system that leverages customized, high dynamic range (HDR) capable Christie 4K laser projection heads," said Jennifer Smith, Global Market Solutions Executive Vice President, Christie.
"Combined with Christie's 6P modular laser light sources, this technology delivers the high-contrast images and ultra-brightness that define Dolby Vision – the visual manifestation of Dolby Cinema™ - a premium cinema offering that combines spectacular image and sound technologies with inspired design to make every visit a completely captivating cinematic event," said Smith.
"We have worked closely with Christie on its laser projection program for many years now and are proud to be a key part of this ground-breaking innovation in cinema projection technology," said Greg Niven, VP, Sales & Marketing for Necsel.
Organized by SPIE and sponsored by Photonics Media, the international awards competition has been recognizing the best new products and solutions in the optics and photonics markets since 2008.
About Dolby Cinema
Dolby Cinema, recipient of the 2015 Red Dot Award for product design, delivers the total cinema experience. It combines powerful image and sound technologies with inspired cinema design to make every visit a completely captivating cinematic event.
Dolby Cinema includes award-winning technologies Dolby Vision and Dolby Atmos. Dolby Vision is a state-of-the-art authoring and playback imaging technology that enables the cinema to bring the story alive onscreen. In 2015, the Dolby Vision laser projector received an engineering excellence award from the Hollywood Post Alliance. Outfitted with Dolby Atmos, a Dolby Cinema transports audiences into the movie with breathtakingly real sound that fills the cinema and flows all around them. Dolby Atmos has received technical achievement awards from both the Hollywood Post Alliance and the Cinema Audio Society.
When these technologies are combined with the sophisticated Dolby Cinema design, everything comes together to pull moviegoers more deeply into the story and transform their visit into an event. In just over a year, more than 200 Dolby Cinema sites have been installed or committed to across the globe, with 22 titles released or announced.
For more information, please visit the Dolby Cinema web page.
About Dolby Laboratories
Dolby Laboratories creates audio, video, and voice technologies that transform entertainment and communications in mobile devices, at the cinema, at home, and at work. For 50 years, sight and sound experiences have become more vibrant, clear, and powerful in Dolby. For more information, please visit http://www.dolby.com.
Dolby, Dolby Atmos, and the double-D symbol are registered trademarks of Dolby Laboratories. Dolby Cinema and Dolby Vision are trademarks of Dolby Laboratories. DLB-G
About Christie®
Christie Digital Systems USA, Inc. is a global visual and audio technologies company and is a wholly-owned subsidiary of Ushio, Inc., Japan, (JP:6925). Consistently setting the standards by being the first to market some of the world's most advanced projectors, complete system displays and audio solutions, Christie is recognized as one of the most innovative technology companies in the world. From retail displays to Hollywood, mission critical command centers to classrooms and training simulators, Christie display solutions and projectors capture the attention of audiences around the world with dynamic and stunning images, and captivating sound. Visit http://www.christiedigital.com.
About Necsel
Necsel, Inc. develops and manufactures lasers and laser solutions for the projection, endoscopes, bio instrumentation, industrial and life sciences marketplaces. The company's cost effect solutions provide these applications additional performance, such as brighter sources, higher contract ratios, longer lifetimes, and provides the technology that allows for the creation of products that were never possible before. Necsel's business model includes high-level customer interaction and co-development to rapidly advance its customer's technology capability and product performance. The company is head quartered in Silicon Valley, CA with manufacturing facilities worldwide. To learn more about Necsel visit http://www.Necsel.com.