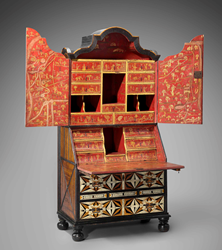 Groundbreaking scholarship in 'Made in the Americas' is pressing the 'reset' button on the history of globalism and the colonial Americas.
Wilmington, Delaware (PRWEB) February 22, 2016
Please join Winterthur Museum, Garden & Library for a special media briefing on "Made in the Americas: The New World Discovers Asia," on Monday, April 4, 2016, at 11 am in the Winterthur Galleries Theater followed by guided exhibition tour. Hear insights from exhibition curator Dennis Carr, a graduate of the Winterthur Program in American Material Culture, and Carolyn and Peter Lynch Curator of American Decorative Arts and Sculpture, Museum of Fine Arts, Boston, and from Linda Eaton, Winterthur John L. & Marjorie P. McGraw Director of Collections and Senior Curator of Textiles.
Debuting to wide acclaim at the Museum of Fine Arts, Boston, August 18, 2015 -- February 15, 2016, "Made in the Americas" has served as a catalyst for reevaluation of traditional history, art history, and other curricula. It opens at Winterthur March 26, 2016 -- January 8, 2017.
Winterthur is located at 5105 Kennett Pike, Wilmington, Delaware, 19807.
This exhibition is organized by the Museum of Fine Arts, Boston. Exhibition presented by DuPont and M&T Bank.
Please RSVP to Liz Farrell, Winterthur Communications Manager, at lfarrell(at)Winterthur(dot)org or 302.888.4803.