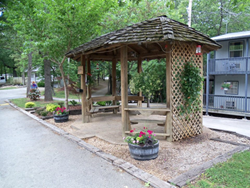 (PRWEB) February 22, 2016
Ocean Canyon Properties (OCP), a privately owned membership camping resort company, is pleased to announce the restructuring of its newest property acquisition, Compton Ridge Campground and Lodge, into two distinct operating entities: Branson Ridge RV Resort and Compton Ridge RV Park and Lodge. Located in historic Branson, Missouri, one mile from one of the largest theme parks in the south central US, Silver Dollar City, Compton Ridge Campground and Lodge was a public campground, purchased by OCP in 2014.
Branson Ridge will now operate solely as a private membership resort, featuring 171 RV campsites, and modern cottages and cabins, furnished with updated amenities and televisions. Additionally, Branson Ridge features a full service cafe, leash-free dog park, country store, outdoor recreation pavilion, hiking trails, with an indoor and outdoor pool, and many more amenities for families to enjoy.
The Compton Ridge portion of the property remains a public campground and continues to welcome both campers and non-campers, eager to explore the Branson area. In addition to 40 full hook-up sites, the Compton Ridge campground provides our guests with a large outdoor pool, laundry room, modern restroom facilities, and a 25 room modernized lodge.
"We are pleased that this unique property will continue to provide a great camping destination for those families who have camped at Compton Ridge for so many years, and also to provide a separate, private resort destination, for the members of our Ocean Canyon family at Branson Ridge RV Resort." Said Mike Pournoury, President of OCP.
Branson Ridge and Compton Ridge will both open for the season on March 18, 2016. On that date, Branson Ridge RV Resort will be ready to host campers for the upcoming season. Branson Ridge joins Ocean Canyon Properties system of 7 resorts, including: Tres Rios RV Resort in Glen Rose, TX, Millwood Landing Golf and RV Resort in Ashdown, AR, Abita Springs RV Resort in Abita Springs, LA, Mountain Lakes Resort in Langston, AL, Styx River RV Resort in Robertsdale, AL, and Texoma Shores RV Resort in Madill, OK.
About Ocean Canyon Properties
Ocean Canyon Properties is a growing system of seven privately owned membership resorts that offer spacious RV campsites, comfortable vacation cabins, cottages and condos, along with a wide variety of private resort amenities. With beautiful resort locations situated throughout the southern United States, OCP resorts provide the safe, secure and enjoyable recreational experience that so many families seek.
Ocean Canyon Properties senior management has been directly involved in the membership camping resort industry on a national platform for over 30 years. This experience, combined with the rigorous standards of operation at both the resort and corporate levels ensure that the company operates securely, responsibly and continually provides the highest levels of service to its members, their guests and employees. Ocean Canyon is active in supporting community organizations that help children and families in the Southeast. You can find out more at their website at http://www.oceancanyon.com