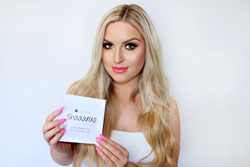 I always recommend BH Cosmetics to my audience because their products are great quality, yet so affordable,
Los Angeles, CA (PRWEB) February 23, 2016
BH Cosmetics, a beauty industry leader and creator of professional-quality makeup, today announced that it is partnering with New Zealand-based beauty expert and YouTube sensation Shannon Harris (known to her fans as Shaaanxo) to create an innovative eye and lip palette. Her influential YouTube channel and inspiring message have helped her grow her following to include millions of social media subscribers and followers.
"I always recommend BH Cosmetics to my audience because their products are great quality, yet so affordable," says Harris. "It's been really exciting to partner with them to design my new two-in-one lipstick and eyeshadow palette, and I know my viewers will love the collection of brights and basics (and the unique packaging) as much as I do!"
For her innovative double-sided palette, Harris hand-picked a mix of dynamic and down-to-earth shades—giving fans a multitude of wearable eye and lip looks that flatter every skin tone. From bold brights to subtle neutrals, each of the palette's 18 shades is truly gorgeous.
"Shannon has such a clean, polished aesthetic, and we wanted the collection to reflect her glamour-girl-next-door vibe," says Vice President of Product Development Reed Cromwell IV. "We considered every detail of the palette—the dual-sided construction, the mirrors, the pink ombré packaging—and created it from the ground up to look and feel unique, like Shannon herself.
The Shaaanxo - 18 Color Eyeshadow & Lipstick Palette will be available in April 2016 at http://www.bhcosmetics.com/shaaanxo.
About BH Cosmetics
BH Cosmetics creates professional-quality, affordable cosmetics and makeup brushes. Known for its highly-pigmented shades and flagship 120-shade eyeshadow palettes, the company's product line has evolved to include a full line of makeup for eyes, lips, face and cheeks—many of which have garnered praise on YouTube and other social media networks. BH Cosmetics was previously recognized on Inc. Magazine's Inc. 500 list as one of the country's fastest-growing private companies. For more information, visit http://www.bhcosmetics.com.
About Shaaanxo
Obsessed with all things makeup and fashion, Shannon Harris' charming personality and girl-next-door relatability have made her the most subscribed-to channel in her native New Zealand. Her global audience has grown at a record-breaking pace, with the majority of her viewers based in the United States. She teaches viewers to be self-accepting while enhancing their natural beauty via her primary YouTube channel Shaaanxo, as well as on her blog. She also has a secondary channel, Shaaanxovlogs, which gives viewers a glimpse into her entertaining everyday life.