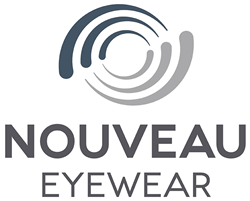 "Nouveau has a 30-year tradition of excellence in the frame industry," said Marty Bassett, CEO and President of Walman
Carrollton, TX (PRWEB) March 01, 2016
Nouveau Eyewear has unveiled its new brand identity. The branding reflects an exciting and significant chapter in Nouveau Eyewear's history after its acquisition by Walman, the nation's largest independent eyecare company. The new brand identity complements Walman and its other six divisions: Walman Optical, Walman Instruments, X-Cel Specialty Contacts, ImageWear, ADO Practice Solutions and Ultra Optics.
"Nouveau Eyewear is a natural addition for Walman," said Marty Bassett, CEO and President of Walman. "Nouveau has a 30-year tradition of excellence in the frame industry. Together we can leverage our combined strengths to offer customers unmatched quality and convenience in every category of the optical business."
The new Nouveau Eyewear brand exemplifies its future and the focus we have on the success of our customers and the optical industry.
The new brand identity will first appear this month in trade advertising, corporate communications, online at http://www.NouveauEyewear.com and across all social media sites supported by Nouveau Eyewear.
About Walman: We are a family of optical companies with a 100-year history of excellent relationships built on enduring trust and added value. Each of our businesses is guided by the same core principles and single vision: to be the most trusted business partner in the industry. Please visit our website for more information: http://www.walman.com.
About Nouveau Eyewear: Nouveau Eyewear is a leading provider of quality frames to eyewear retailers, optical laboratories and independent opticians. Nouveau Eyewear is dedicated to offering designs for all lifestyles with innovative features, materials and the highest standard of quality. A member of the Vision Council of America, Nouveau Eyewear is based in Carrollton, Texas.