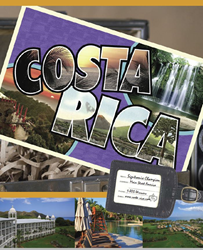 Torrance, CA (PRWEB) February 22, 2016
Signtronix, the country's leading manufacturer of signs for small business, awarded its 2015 sales champions with a trip to Guanacaste, Costa Rica. Those that exceeded their 2015 goals were awarded with this phenomenal, all-inclusive trip.
The Signtronix champions will be staying at the RIU Palace, which is situated directly on the long, sandy beach in the Guanacaste province of this beautiful, Central American country. The RIU Palace boasts 3 swimming pools, windsurfing, kayaking, pedal boats, snorkeling and many gourmet restaurants on the resort premises.
Besides the hotel activities and amenities, there are many fun and exciting get-togethers that are planned for the over 50 champions that will be honored at this event.
Tom Johnson, President of Signtronix said, "We start out the week with the welcome reception when they arrive at the resort. We want all our champions to know how much we appreciate them, so we make them feel very special from the minute they arrive. We will have fun team building events throughout the week to emphasize our success is because we work as a team. The week will culminate with our awards banquet, which is a black tie affair to remember! The people of Costa Rica have a saying called "pura vida", which means "pure life". It symbolizes the idea of simply enjoying life and being happy. That's what we want for our Signtronix family."
"Without our sales professionals, we wouldn't have a business," said Tom Johnson Jr., Marketing Guru for Signtronix, "This trip is for those that really worked hard and stretched their performance. We recognize their hard work, which ensures our business continues to grow every year. That's why we reward them with this amazing trip. They certainly deserve it."
"We are always hiring talented salespeople for our regional offices across the country. I encourage anyone that wants a truly rewarding sales career, with a solid and dependable company, to apply to us. Anyone can hit the goals to earn the right to go on our sales champion trips. You can find our sales jobs at http://www.SigntronixCareers.com or go to Indeed.com and search for our jobs in one of the many cities across the United States. We're always looking for talented people to join our team," said Tom Johnson.
About Signtronix
Signtronix (http://www.signtronix.com) is the premiere sign manufacturer for small businesses across the United States. The company was founded in 1959 and has helped over half a million customers in its almost 60-year history. Signtronix offers many different sign products from outdoor electric signs, LED signs, and indoor and window signs to help America's small businesses get the exposure they need to their passing public and potential customers. Signtronix is proud to be an ESOP (employee stock ownership plan) company which is owned and operated by its employees. Join Signtronix on Facebook at http://www.facebook.com/signtronix or join us on Twitter at http://www.twitter.com/signtronix.
To learn more about Signtronix please contact Tom Johnson Jr. at trj2(at)signtronix.com.