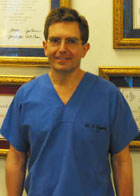 Bethlehem, PA (PRWEB) February 22, 2016
Dr. Joseph Gaspari is proud to celebrate Gum Disease Awareness Month by urging all individuals with gum disease in Bethlehem, PA, to learn how effective laser dentistry can be. Dr. Gaspari utilizes the LANAP® protocol laser to locate and remove infected gum tissue with minimal discomfort.
Dr. Gaspari invites patients with gum disease in Bethlehem, PA, to find out if laser treatment is the right option for them. Gum disease has been linked in recent studies to heart disease, stroke and many other serious health conditions. It is estimated that more than 85 percent of adults in the United States have some degree of gum disease. Many of them do not seek treatment because they are unaware of the severity of their condition, or because they are nervous about receiving the treatment.
Individuals who have anxiety about periodontal disease treatment prefer how gentle laser dentistry is over traditional periodontal disease treatment methods that involve scalpels and other common dental tools. Specifically, the LANAP® procedure avoids the incisions and sutures associated with conventional gum disease surgery. The laser utilized in the LANAP® protocol is also able to quickly pinpoint and remove diseased gum tissue, which makes it possible for Dr. Gaspari to treat multiple areas of the mouth in just one office visit.
In addition to its unusually gentle nature, the LANAP® protocol provides the additional benefit of promoting bone and gum tissue regeneration while causing minimal inflammation, swelling and bleeding. Patients with gum disease in Bethlehem, PA, are invited to improve the health of their gums during Gum Disease Awareness Month by calling Dr. Gaspari's practice at (484) 552-2081 to schedule a laser dentistry appointment.
About the Doctor
Gaspari Family Dental Care is a general practice offering personalized care for patients in Bethlehem, PA. Dr. Joseph Gaspari and his team are dedicated to providing comprehensive dental care through the use of innovative and modern techniques. Gaspari Family Dental offers a variety of other services such as laser gum surgery, Chao Pinhole® Surgical Technique, sedation dentistry and dental implants. Dr. Gaspari is a Fellow with the International Congress of Oral Implantology and with the Misch International Implant Institute. He is also a member of the American Academy of Periodontology and the American Society for the Advancement of Aesthetics in Dentistry. To learn more about the services offered at Gaspari Family Dental Care, please visit their website, http://www.drgaspari.com or call (484) 552-2081 to schedule an appointment.