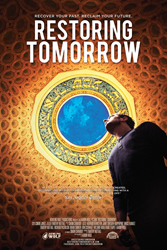 On a personal level, while making the film, I felt I was becoming something of a microcosm for my generation, as I came to reconnect with my roots and heritage.
Hollywood, CA (PRWEB) February 22, 2016
Aaron Wolf and Howling Wolf Productions will preview their new feature film, "Restoring Tomorrow," on February 25 at the world-famous Chinese Theater with an exclusive Q&A with Wolf to follow.
"Restoring Tomorrow" follows the personal journey of Los Angeles-based director Wolf, as he documents the rise and fall and rise again of Wilshire Boulevard Temple, which opened its doors in 1929, two years after Grauman's Chinese Theater. Like the Chinese, Wilshire Boulevard Temple was built by and for the legendary movie moguls, such as Louis B. Mayer, Irving Thalberg, Carl Laemmle and the Warner Brothers. Modeled after L.A.'s great movie palaces, it made a dramatic statement as the spiritual home for the men who ran Hollywood, along with the wider Jewish community.
"Like many younger adults, I lost connection with my religion and the place I grew up," said Wolf. "On a personal level, while making the film, I felt I was becoming something of a microcosm for my generation, as I came to reconnect with my roots and heritage. On a much larger scale, this film is really all about connection, between present and past and into the future. The Temple's restoration has dramatically demonstrated what every community can achieve, if we dig down deep and reconnect with who we are and what we stand for. Now, with this screening, it's very exciting to see one more connection being made – between Wilshire Boulevard Temple and one of the great movie palaces after which it was modeled."
"Restoring Tomorrow," produced by Howling Wolf Productions co-founder Tim Nuttall, also profiles Wilshire Boulevard Temple's Senior Rabbi Steve Leder and his determination to achieve the impossible - raise $150 million to restore the majesty of the historic synagogue, which is the oldest and largest Jewish congregation in Los Angeles. The Temple, built by Hollywood's premiere set builders of the time, stands today as one of the most unique and inspiring pieces of architecture in the Western United States.
Film critic Leonard Maltin, who moderated the film's Q&A at the Skirball Cultural Center VIP preview January 23, had this to say about the film, "Restoring Tomorrow is a genuinely inspiring film with a great story to tell. It documents the restoration of a historic building, but more than that it invites us to share in the recommitment of a synagogue to its community. I found it very moving." The Skirball event was attended by many Los Angeles dignitaries and celebrities, including business mogul and philanthropist Eli Broad, actor Timothy Bottoms and actor Michael Gross and was met with a warm response by among others, the Los Angeles Times and the Times of Israel.
"Restoring Tomorrow" will screen at 7:00 PM at the TCL Chinese Theater in Los Angeles on February 25 in conjunction with the HollyShorts Film Preview Series. For more information on the film, filmmakers and the continued rollout, please visit http://www.restoringtomorrowfilm.com.
About Aaron Wolf
Aaron Wolf is a director, actor, writer and founder of Howling Wolf Productions. His credits include the award-winning films "Guest House," starring Michael Gross and Heather Lind, and "The Walk," starring Oscar and Emmy nominee Peter Riegert, as well as Wolf. Currently, Wolf is in post-production on the thriller "Tar," about an unknown and ancient creature that lives within the La Brea Tar Pits. Academy Award® nominees Timothy Bottoms and Graham Greene star, along with Wolf and Max Perlich.
About Howling Wolf Productions
Howling Wolf Productions (HWP) is a full-service production company that tells stories. HWP principals Aaron Wolf and Tim Nuttall, working with a talented team of Los Angeles- and New York-based film professionals, pride themselves on their ability to produce quality stories for all genres and all budgets that have played in theaters across the country from the historic Chinese Theater to Times Square. These stories take all forms, from award-winning films to inspirational documentaries to TV commercials to music videos. HWP always finds the story that lies at the core … whether it's a partnership with Warner Brothers, interviews with notables like Harrison Ford and Kobe Bryant, a sports show on the Dodgers and Lakers for Cox TV, or web and commercial content for Lucky Brand and Adobe. HWP also works with such companies as DreamWorks and Disney.