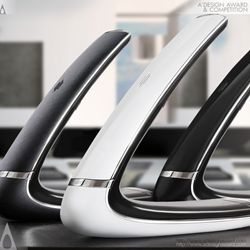 Como, Italy (PRWEB) February 20, 2016
A' Design Award and Competition is pleased to inform that the design project Boomerang by Chow Hung Pong has been announced as a winner of the Golden A' International Home Appliances Design Awards.
Details of Boomerang
Chow Hung Pong, the creative mind behind the award winning appliance design Boomerang demonstrated "The iDECT Boomerang is a cordless DECT home phone designed to bring functionality, style and elegance together. Inspired by the simple form of the Australian throwing tool, the Boomerang is a new take on phone design. The state-of-art phone features are hidden in a simple and elegant design. Its curves, glossy black finish and chrome highlights, make this phone a great fit to any modern home. This model follows a long line of design phones by iDECT, always innovating the communication space with design and aesthetics." Learn more and download high-resolution photos at: https://competition.adesignaward.com/design.php?ID=36730
Creative Team for Boomerang
Boomerang was imagined by Chow Hung Pong (Valentino Chow - Senior Industrial Designer)
The Golden A' Design Award
The Golden A' International Home Appliances Design Award is a prestigious award given to top 3% percentile consumer electronics designs that exhibits an exemplary level of quality in design. Entries to the A' Awards are evaluated on aspects such as functionality, ergonomics, engineering, presentation, innovation, usability, and technology by an expert, internationally influential jury panel of academics, design professionals and media members. Laureates of the A' Design Awards are granted the coveted A' Design Prize which includes a series of public relations and marketing services such as inclusion in Designer Rankings, exclusive interviews, press release preparation and distribution services in addition to the award trophy, yearbook, exhibition, gala-night and design excellence certificate.
About A' Design Award and Competitions
A' Design Award and Competition is the worlds' leading design accolade that accept entries of extraordinary, original and innovative design concepts, products and services for awards consideration. A' Design Awards are organized internationally in a wide-array of creative categories in order to highlight the best designs from across the globe. The ultimate aim of the International A' Design Competition is to push designers, product manufacturers and brands worldwide to come up with superior products and services that benefit society. Learn more about the A' Design Competition at http://www.whatisadesignaward.com