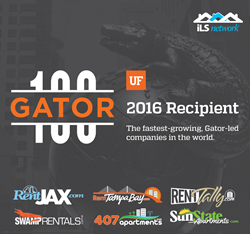 I'm proud and honored to receive this award. But what this growth in top line revenue really means, is that we've been able to grow and create jobs... and that's what makes awards like this much more meaningful. -Pete Zimek, Co-Founder
Orlando, FL (PRWEB) February 22, 2016
Florida-based technology company, iLS network, has been recognized as one of the 100 fastest-growing, Gator owned or led business in the world as a 2016 Gator100 recipient. The company helps to find apartments for its over 500k+ visitors annually, without ever speaking to a single one.
 
"We've been fortunate to build a product that allows us to connect to our renters through the use of technology and help them narrow down to the apartment that fit their exact specifications," says co-founder and Gator grad, Pete Zimek.
 
Awarded by the University of Florida's Entrepreneurship & Innovation Center (CEI), Gator100 recipients, along with several other requirements, must have been in business for 5+ years, have verified annual revenues and be a UF alumnus. Candidates are then ranked by compounded annual growth rate to determine year-over-year growth rate, financials that were verified by sponsor, Ernst & Young.
 
Recipients were invited to a two-day event that served as a setting where international elite entrepreneurs can gather and share their talents and wisdom. The event began Thursday, February 18th, with a welcome reception for all recipients at the Champions Club in Ben Hill Griffin Stadium and Friday with breakout sessions in the morning and the Gala Awards Lunch in the newly-renovated J. Wayne Reitz Union.
 
Zimek, shares his feeling on receiving the award, "I'm proud and honored to receive this award. But what this growth in top line revenue really means, is that we've been able to grow and create jobs. We've been able to create a team and a creative working environment, and that's what makes awards like that much more meaningful."
For the complete list of 2016 Gator100 winners, visit http://gator100.ufl.edu/docs/2016-Gator100-Ranked-List.pdf
About iLS network
iLS network is a network of online apartment guides providing technology that empowers renters to find an apartment to match their lifestyle and budget. The company has websites in six cities throughout Florida including Orlando, Gainesville and Tampa Bay. The company started in Gainesville, FL by two University of Florida graduates, Pete Zimek and Geoff Wilson. Its websites are decision engines that quickly adapt to an ever-changing renters' population, and its mission is realized when renters find the ideal apartment through dynamic search options and hyper-localized insight. For more information, visit iLS network.
Market Specific Information:
Orlando, 407apartments
Gainesville Swamp Rentals
Tampa, RentTampaBay