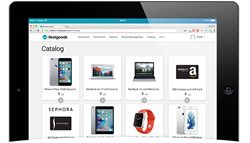 "We've now removed the hassle associated with shipping and storing gifts—whether they're digital or physical products."
Palo Alto, California (PRWEB) February 29, 2016
After launching in 2010 with rewards like Facebook Credits, Ifeelgoods has now expanded their catalog—one of the largest worldwide—to cover all of its consumers' needs.
"As digital natives that specialize in building reward mechanisms and distribution systems for digital currencies and digital content over the last 6 years, we gradually began to focus on building leading edge technology that can be leveraged to offer users physical rewards," says Michael Amar, Ifeelgoods co-founder and CEO.
Rather than manually manage the shipping and handling of the physical goods, Ifeelgoods is sending user information to brands like Apple to help them fulfill orders and better manage customer relationships.
"The need was expressed by our clients in various industries including employee motivation, loyalty and customer support. We've now removed the hassle associated with shipping and storing gifts—whether they're digital or physical products." says Dimitri Ducourtieux, co-founder and VP Europe at Ifeelgoods.
This solution is a win-win for both reward providers, who gain access to new, previously unattainable distribution channels for their products, as well as brands that cannot afford (or do not want) to handle the operational nightmare of handling orders on an individual customer basis.
One of the largest European petroleum companies is already seeing traction in a pilot test run with Apple products including iPhones, iPods and other various accessories.
About Ifeelgoods
Ifeelgoods' turnkey platform enables companies to set up, launch and monitor rewards promotions and programs within minutes. It helps companies achieve multiple business objectives such as customer acquisition, retention, engagement, employee motivation and more. End-users can also directly receive rewards from over 100 integrated apps including Mailchimp, Salesforce, SurveyMonkey, Paypal and Zendesk. Gifts are delivered from Ifeelgoods' catalog that features over 100,000 rewards, with content that ranges from movies, songs, games, apps, newspaper subscriptions and gift cards.
The Ifeelgoods platform has delivered 30+ million rewards across industries worldwide and has powered campaigns for over 300 leading brands such as Walmart, GAP and L'Oréal.
Learn more: http://www.ifeelgoods.com/