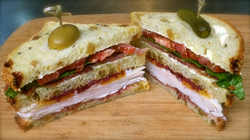 Taking a bite of your next sandwich could have big benefits for charity, thanks to a new program by Amy's Bread and top chefs.
New York, NY (PRWEB) February 25, 2016
Taking a bite of your next sandwich could have big benefits, thanks to a new collaboration between Amy's Bread and some of the best chefs in New York. The campaign, called Chef Sandwiches for Good, will feature a variety of specialty sandwiches that will be sold to raise money for charity.
Starting in March, chefs from some of the most popular restaurants in New York will take turns creating a signature monthly sandwich, using Amy's Bread and at least one ingredient from The Pantry by Amy's Bread. The sandwiches will be sold at all Amy's Bread locations as well as The Pantry by Amy's Bread, and a portion of the proceeds will be donated to a charity selected by each chef.
"We are very excited about this campaign," said Amy Scherber, founder of Amy's Bread. "We want to do something unique and special to highlight the many talented chefs we work with, while benefiting the greater community. We're looking forward to a tasty and rewarding experience and to learning about the inspiration behind each signature sandwich and how it reflects each chef's individual style."
The campaign kicks off Tuesday, March 1st at Amy's Bread in Chelsea Market, from 12 noon – 2:30 p.m. Chef Vincent Nargi of The Odeon will be on hand to introduce his sandwich, The Dagwood, and has selected JDRF (formally known as Juvenile Diabetes Research Foundation) as his charity.
"JDRF is extremely grateful to Amy's Bread and Chef Nargi for their support," said Kristin C. DiFoglio, Executive Director of JDRF New York City Chapter. "Partnering with Amy's Bread will not only help us raise needed funds to further our goal of creating a world without diabetes, but will help people living with the disease live healthier and longer lives."
The Dagwood is a multi-layered catchall sandwich that is named after Dagwood Bumstead from the comic strip Blondie. Chef Nargi's version uses Amy's Semolina Raisin Fennel Pullman for added flavor and gourmet condiments and cheese from The Pantry by Amy's Bread.
"Ever since I was a kid, I wanted to make a sandwich like the Dagwood," said Chef Nargi. "More than 10 years ago at another restaurant, I used Amy's Bread for the foundation of my sandwich and was so impressed that they became my supplier. Shortly afterward, I was diagnosed with type 1 diabetes. Now, the sandwich that started our long lasting friendship is reuniting us to support JDRF, share some memories, and make good food."
Other chefs who'll be serving up signature sandwiches include David Bouley, Lynn Bound, Alex Guarnaschelli, Anita Lo, Missy Robbins, Bill Telepan, Galen Zamarra, and more to be announced.
For additional information, visit http://www.amysbread.com.
About Amy's Bread
Founded in 1992, Amy's Bread is a pioneer of the artisan baking movement in New York City. Everything is made by hand, using slow fermentation and traditional baking methods. With retail shops in Hell's Kitchen, Chelsea Market and Greenwich Village, kiosks at The New York Public Library (42nd Street and Performing Arts Library at Lincoln Center) and a production kitchen in Long Island City, the company specializes in traditional breads as well as sandwiches, sweets, and old-fashioned layer cakes made with the freshest natural ingredients. Amy's Bread supplies more than 200 of the city's top restaurants and specialty food stores and also offers online catering, local deliveries and shipping nationwide.