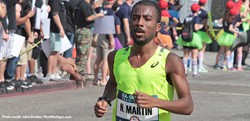 (PRWEB) February 22, 2016
Former Spring Arbor University track and field standout Nathan Martin had the opportunity of a lifetime last Saturday when he was able to run with the top marathoners in the country at the U.S. Olympic Marathon Trials in Los Angeles.
With a shot at qualifying for the 2016 Summer Olympics in Rio de Janeiro, Brazil, Martin ('13) arrived in L.A. several days early to prepare. Although an exciting time, he admits it began to be a bit overwhelming leading up to the biggest race of his life.
"Leading up to the race things started to get a little overwhelming thinking about what I was trying to do, my competition and a few other things," said Martin. "However, remembering that the only thing I truly was trying to achieve was to give whatever I had on that day, and to push for the people who believed in me."
The race would prove to be one of the toughest the former NAIA marathon national champion has ever run. With temperatures nearing 80 degrees during the day, it became the warmest race in Trials history. Despite the hot and dry conditions, he persevered. Nearly 40 percent of the field was unable to complete the 26.2 mile course, but Martin pushed through the pain and leaned on his faith to carry him through the difficult moments.
After entering the day ranked 34th among the 166 men who started the race, Martin finished 23rd overall with an impressive time of 2:21:27. Even though he was unable to obtain his goal of a sub-2:15:00 time, being able to finish the race, and fulfill a dream, was a huge accomplishment.
Current head women's track and field coach Bryan Burk was able to join Martin for the race, and was extremely grateful for the opportunity to be by his longtime friend's side.
"It was a blessing to be able to serve Nate and be there for him while he raced at the Trials," said Burk. "It is always fun to see him race. He never gives up or shuts down early even when everything is telling him he should. The conditions were much less than ideal, but that did not stop him from fighting with incredible faith. He was no doubt tired, but gave it everything he had. I am proud of Nathan and excited to see what happens for him in the future!"
Spring Arbor Director of Track and Field, Jeremy Smith, commented, "SAU Track and Field is so proud and thankful for the great role model Nate is as an elite athlete. He runs for the glory of God. He knows that God has given him an amazing gift and with that gift comes great responsibility. Thank you to everyone's prayers and support that has funded and fueled Nate on this beautiful journey of faith!"
Even though he is unsure of exactly what the future of his racing career holds, Martin plans to continue to train for his next possible opportunity.
"Being in a race like the Olympic Trials, knowing you have more in you, only lights a fire to give everything for the next one," he noted. "There are a lot of races I would like to run, but they will be more of a stepping stone to the next Trials."
"I would like to say thank you to all the people who supported me in the journey to the Trials," Martin added. "Without them it would have meant a lot less making it as far as I did. My true hope is through my running I can reflect Christ and not only inspire others to use whatever gift the Lord has given them, but to do the same."