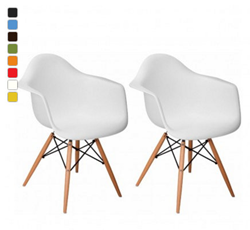 [Designer Discount Program] is absolutely free to join and includes NO tax, NO minimum to buy, and there is always free shipping in the continental U.S
(PRWEB) February 23, 2016
Great deals that customers seem to gravitate towards. The weekly sale EZmod Furniture holds, also known as the Deals of the Week include the Phin Chair set of 2, the Eiffel Tower Arm Chairs set of 2 and the Eiffel Tower Wood Leg Chairs set of 2. And for all of the designers and architects out there, do not forget to sign up for the EZmod trade program, Designers Discount Program.
This week, EZmod has featured chair sets to be included in the Deals of the Week. One of them being the Phin Chair set of 2. Known for the functionality and beauty of the chair, the Phin Chair is very versatile. The thick plastic seats come in a variety of colors. They are very easy to maintain and clean, which makes it great for families with children and/ or pets. It is light weight, which makes moving it from room to room a breeze. The chrome legs of Phin chair guarantee durability and if you have company coming over, they make storage easy since they are stackable as well. They are sturdy enough for the home, but elegant looking for the office.
Also part of the EZmod Deals of the Week are the Eiffel Arm Chairs set of 2, in both chrome legs and wood legs. Eiffel Arm Chair features simple, sleek lines and organic shapes which allows this chair to enhance modernity in any room. The thick, molded arm chair seat is not only long-lasting, it goes with almost any type of décor. Whether it be Midcentury or Bohemian, the Eiffel Arm Chairs make a statement. Both the chrome leg and wood leg are built to last. And with the vast options of colors, the only hard decision one must make is which one to choose.
Architects and interior designers, rejoice! EZmod Furniture has a trade program, the Designer Discount Program. "It is absolutely free to join and includes NO tax, NO minimum to buy, and there is always free shipping in the continental U.S." explained Angelique Valdez, Sales Support and Marketing Manager. All EZmod needs is the designer's full name, company name, address and phone number, email address and a copy of tax ID number or Resale Certificate.
EZmod Furniture is an e-commerce retail store specializing in modern furniture and home décor. For more information on the Deals of the Week or Designer Discount Program, do not hesitate to contact Angelique Valdez, Sales Support and Marketing Coordinator at 866-630-6161 ext. 113. You can also e-mail sales(at)ezmodfurniture(dot)com.