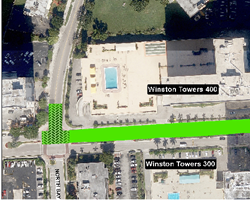 Sunny Isles Beach, Florida (PRWEB) February 19, 2016
Beginning on February 29, North Bay Road at the intersection of 174 Street will be closed to all vehicular traffic until further notice. Winston Boulevard (174 Street) will remain open to local traffic only.
This project, which includes a new drainage system, sidewalks, gutters and landscaping, has been divided into five phases to minimize impact on vehicular and pedestrian traffic.
1. During each phase, no parking will be permitted in the construction area or in the detour area.
2. Residents displaying a Resident Parking Permit are permitted to park in any Residential Parking spaces between 174 and 178 Street and on the non-construction areas of 174 Street.
This road closure is required to finish Phase II of a multi-phase project. The second phase involves the west bound lanes of 174 Street from the intersection of North Bay Road to Winston Towers 400 and now requires this complete closure at North Bay Road to be completed. The duration of this portion of Phase II is expected to last approximately two months. Vehicular traffic will be rerouted on 174 Street, allowing for one lane in each direction – east and west past the construction area. Pedestrian access will remain available between North Bay Road and 174 Street.
The SIB Shuttle Bus will continue to travel down 174 Street during the time of the road closure; however Miami-Dade County buses will not. Residents of the seven Winston Towers Buildings will be able to catch the SIB Shuttle Bus as it travels to and from Collins Avenue on 174 Street, though the stops may be on the opposite side of the road from their respective buildings. Riders may take advantage of the SIB Shuttle Bus to access Miami-Dade buses at Collins Avenue. There will be no bus service on North Bay Road south of 178 Drive. Therefore, the SIB Community Shuttle, northbound blue line only, will stop on the east side of 178 Drive in front of Saint Mary Magdalen Church and on the west side of North Bay Road across from Senator Gwen Margolis Park to pick up riders. The Miami-Dade County buses will continue to run north and south on the 178 Street/North Bay Road/178 Drive loop back and forth to Collins Avenue.
Details on detours for the Miami-Dade County buses and school buses will be posted on sibfl.net.
A public information meeting regarding this construction schedule and road closure will be held on Thursday, February 25 at 10:00 am in the First Floor Meeting Room.
For information about this construction schedule go to the official City website at sibfl.net, watch SIBTV, or follow the City on Twitter & Instagram (@CityofSIB), or on Facebook (City of Sunny Isles Beach). For questions, please contact Capital Projects Manager Elka Linton-Dorsett at 305.792.1773.