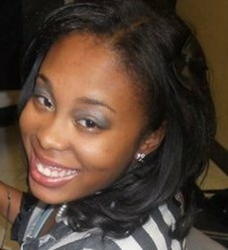 I like that infographics bring attention to important points of information in a visually appealing way. - Dainelle Riley
Tampa, FL (PRWEB) February 24, 2016
The Institute for Public Relations (IPR) recently held its first global Infographic Design Competition for students and Dainelle Riley, graphic designer at USF Federal Credit Union, was selected as one of the top student winners. Each of the contestants was asked to create an infographic that illustrated a concept discussed in IPR's Signature Series.
For her infographic, Riley used an article written by Rita Linjuan Men, Ph.D., APR, assistant professor of public relations at the University of Florida and the research editor for the Institute for Public Relations' Organizational Communication Research Center, which described effective communication methods for CEOs. Riley chose this topic over another idea because she knew that its relevancy and level of information would translate well into an infographic. In the infographic, Riley outlined some of the benefits of effective CEO communication, the styles of communication (assertive and responsive), the positive results of authentic leadership, ways to get your CEO more involved in social media, and facts to support the research that was done. For example, when describing the relationship between CEOs and social media, studies have shown that CEOs who are more present on social media are perceived by their staff as being more "approachable, responsive and authentic."
Upon winning IPR's first, global student infographic competition, Riley stated that she was, "completely surprised and humbled by their decision. It was important for me to bring back a victory for my school as well as me." Additionally, Riley was very excited about getting her work out in the public eye.
In recent years, infographics have been commonly utilized by companies to articulate complex messages in lieu of more traditional methods. By blending factual data with creative, graphic elements, individuals find it easier to comprehend the concepts. When asked what she finds the most helpful about infographics, Riley commented, "I like that infographics bring attention to important points of information in a visually appealing way."
This October, IPR will be holding their Second Annual Infographic Competition for student participants. Riley said that she would like to partake but is not sure she will be able to since she is graduating from The University of Florida in August with her Master's Degree in Communications.
"USF Federal Credit Union offers a full range of financial services to the faculty, staff, students, alumni association members, and their families worldwide in addition to the organizations with employees on the campuses of the University of South Florida. USF FCU recently expanded membership to include employees of Darden Restaurants, Inc., Red Lobster employees and numerous businesses across the Tampa Bay area. Founded in 1959, USF FCU has over 52,000 members and more than $500 Million in assets. USF Federal Credit Union has six branch locations and participates in the Shared Services Network, which allows access to branch locations nationwide."