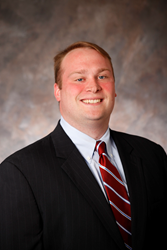 "Jon has a great knowledge of the non-profit sector and accounting, and he brings a lot of management wisdom, so he was an easy choice for filling an open position on the board," says Tom Thielman, MEACO executive director
Mentor, OH (PRWEB) February 29, 2016
The Mentor Economic Assistance Corporation (MEACO) named Jonathon P. Ruple of Maloney + Novotny LLC to its board, enhancing the small business lending team's management expertise.
"Jon has a great knowledge of the non-profit sector and accounting, and he brings a lot of management wisdom, so he was an easy choice for filling an open position on the board," says Tom Thielman, MEACO executive director and economic development administrator for the City of Mentor.
Ruple is a 1999 gradaute of the University of Dayton with a Bachelor of Business Administration degree and concentrations in accounting and finance. Aside from serving MEACO, Ruple is a board member and treasurer of the Lake County Development Council, and member of the Ohio Society of Certified Public Accountants and the American Institute of Certified Public Accountants.
Ruple joined Maloney + Novotny LLC in 2000. He specializes in education, commercial and industrial, healthcare and not-for-profit clients. Ruple notes that a "value-added approach includes building long-term relationships with clients so we can understand their ideas and bring them practical solutions." Ruple will apply this philosophy to his work with MEACO.
MEACO is a non-profit Certified Development Corporation specializing in small business lending. As a partner with the U.S. Small Business Administration, MEACO provides SBA 504 loans to businesses throughout Northeast Ohio. The SBA 504 Loan Program provides long-term, fixed-rate financing at below market interest rates. Virtually all for-profit small businesses are eligible. MEACO can loan up to $5 million to:

Buy owner-occupied commercial real estate.
Build owner-occupied commercial real estate projects.
Renovate or expand owner-occupied real estate.
Purchase machinery and equipment.
MEACO also operates a revolving micro-loan program for the City of Mentor.
"Our goals are always to provide more loans, and we're pleased to introduce new talent to the MEACO board with the addition of Jon Ruple," Thielman says.
MEACO works directly with small businesses in Northeast Ohio and their banks to facilitate prompt financing. The organization also ushers applicants through the paperwork process. MEACO financing has resulted in creating or retaining more than 1,300 jobs in Mentor.
For informaton, visit meacoweb.com or contact Tom Thielman at 440.974.5739, thielman(at)MeacoWeb(dot)com