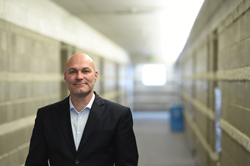 Salt Lake City, Utah (PRWEB) February 22, 2016
Salt Lake Community College recently named Craig Caldwell as the new dean over its School of Science, Mathematics and Engineering.
Caldwell joined SLCC in 2005 as the first director of the College's InnovaBio program. InnovaBio uses experienced scientists and student interns to help corporations develop new products or explore new ideas in a state-of-the-art biotechnology lab at SLCC's Jordan Campus. From 2007 to 2014 Caldwell served as the chair and director of SLCC's Biotechnology program, during which time he developed the Associate of Science Biotech transfer degree and the Biotech Baccalaureate degree partnership with Utah Valley University. Caldwell has also led the Biotechnology program's success in grant procurement as a lead writer, principal investigator and administrator for several major grants and contracts from the National Science Foundation, Department of Labor and Department of Education.
Caldwell received his Bachelor of Science in Biology from the University of Louisiana and his Ph.D. in Biochemistry from Texas A&M University. He brings an impressive record of innovation, partnership and leadership to his new role.
Salt Lake Community College is an accredited, student-focused, comprehensive community college meeting the diverse needs of the Salt Lake community. Home to more than 60,000 students each year, the College is Utah's leading provider of workforce development programs. SLCC is also the largest supplier of transfer students to Utah's four-year institutions and a perennial Top 10 college nationally for total associate degrees awarded. The College is the sole provider of applied technology courses in the Salt Lake area, with multiple locations, an eCampus, and nearly 1,000 continuing education sites located throughout the Salt Lake Valley. Personal attention from an excellent faculty is paramount at the College, which maintains an average class size of 20.