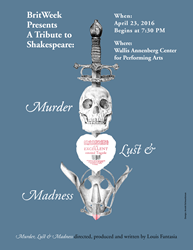 All the world is still Shakespeare's stage, and I am thrilled that we are kicking off this tenth anniversary year of Britweek, with an evening of some of Shakespeare's most passionate plays. - Louis Fantasia, Director & Producer of Murder, Lust & Madness
Los Angeles, CA (PRWEB) February 23, 2016
BritWeek, the largest and most visible celebration of British creativity and innovation in Los Angeles, will stage a Shakespeare production, titled "Murder, Lust, & Madness," in honor of Shakespeare's 400th and BritWeek's 10th anniversary.
The acclaimed cast includes: Ioan Gruffudd, Joely Fisher, Lesley Nicol, Stacy Keach, Patricia Heaton, Michael York, Harry Hamlin, Eric Braeden, Jimmy Akingbola, Karen David, Joan Van Ark, Victoria Platt, Ashley Bell, Adan Canto, Jane Carr, Suzan Crowley, Neil Dickson, Judy Geeson, Michele Greene, David Hunt, Robert Wisdom, and Joe Spano, with musical performances by Jen Lee, Randy Guiaya, and Sherry Williams.
"Shakespeare is every actor's first love," says Bob Peirce, Founder and Chairman of BritWeek, "and this wickedly delicious entertainment will show why as we honor the Bard's understanding of human nature."
Noted Shakespeare expert and Shakespeare scholar (Globe and Huntington productions) Louis Fantasia will return to write, direct and produce the performance, which will feature an all–star cast.
"The 400th anniversary of Shakespeare's death will be marked with celebrations, performances, lectures and discussions all around the Globe!" says Fantasia. "Literally, all the world is still Shakespeare's stage, and I am thrilled that we are kicking off this tenth anniversary year of Britweek, with an evening of some of Shakespeare's most passionate plays — OTHELLO, MACBETH, ROMEO & JULIET, A MIDSUMMER NIGHT'S DREAM — in short, an evening of "Murder, Lust, & Madness" in verse, prose, song and dance from William Shakespeare."
Sponsors include King's College London. Tickets are available here.