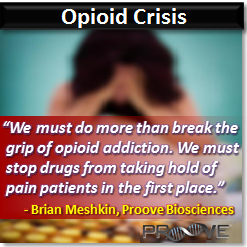 (PRWEB) February 20, 2016
With prescription drug and heroin overdoses now killing more Americans than car accidents, the opioid crisis has worked its way into the speeches of presidential candidates and a billion dollar plan by President Barack Obama. The goal of both the president and those who hope to replace him is to stem the rising tide of opioid abuse, now officially a national epidemic.
But a group of physicians and pain researchers attending the American Academy of Pain Medicine (AAPM) meeting in Palm Springs, CA say the speeches of presidential hopefuls and the language in President Obama's $1 billion plan are focused on treatment, not prevention.
Helping opioid addicts gain access to treatment and medication is an important step in fighting addiction. But pain industry professionals want the current and next president to also consider measures that would prevent pain patients from becoming addicts in the first place. The group agreed that a critically important first step in prevention is genetic screening and its ability to guide doctors and patients to non-addictive doses of opioid painkillers, including OxyContin, Vicodin, and Percocet.
"Obviously, this is a war that must be fought on many fronts," said Brian Meshkin, CEO of Proove Biosciences and an attendee of the AAPM Conference. "We must care for the growing number addicts in the U.S. but we must also look at preventive measures, finding ways to partner with pharmaceutical companies that manufacture opioids, the FDA that approves the drugs, and the physicians who prescribe them."
In a news conference held outside the Palm Springs Convention Center, Meshkin was joined by former U.S. Congresswoman Mary Bono, leading international pain researcher Luda Diatchenko, MD, Ph.D the Canada Excellence in Research Chair at McGill University in Montreal, and William Maixner, DDS, PhD, with the Duke University Center of Translational Pain Medicine, former Mary Lily Kenan Flagler Bingham Distinguished University Professor and Director of the Center for Neurosensory Disorders in the School of Dentistry at the University of North Carolina, Chapel Hill and member of the NIH Interagency Pain Research Coordinating Committee.
"The opioid abuse epidemic has hit every community in America, and it has hit hard," said Bono, a former Chairman of Mothers Against Prescription Drug Abuse (MAPDA). "The evidence of the severity of the problem has been mounting for years, both statistically and with the heartbreaking stories of grieving loved ones who have lost a family member or a friend. The good news is we can do something about it. Doing nothing is no longer an option." said Bono.
With a focus on prevention, physicians attending the pain conference urged all doctors in the U.S. to adopt a set of guidelines aimed at minimizing the risk of addiction among their patients. The group wants opioid-subscribing doctors to:
1) Conduct a physical exam, pain history, past medical history, and family/social history.
2) Consider all treatment options, weighing benefits and risks of opioid therapy, and using
opioids when alternative treatments are ineffective.
3) Implement a genetic test before the patient begins any type of opioid therapy (a test will determine whether the patient has a genetic predisposition for opioid abuse).
4) Start patients on the lowest effective dose
5) Implement pain treatment agreements
6) Monitor pain and treatment progress with documentation; using greater vigilance at high doses
7) Use safe and effective methods for discontinuing opioids (e.g., tapering, making appropriate referrals to medication-assisted treatment or substance use specialists)
"We're pushing for a fundamental change in how this war is fought," said Meshkin. "While it's clear that there will be more treatment available for addicts, if we can see proactive changes with physicians, pharmaceutical companies, the FDA, as well as the current and next U.S. President, we will hopefully do more than break the grip of drug addiction. We'll also prevent opioids from taking hold of pain patients in the first place."