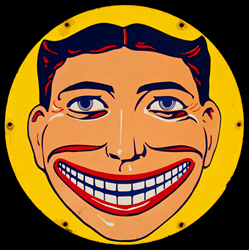 Through fine arts and vernacular arts you get a full sense of what it was like, what it has been, and how it has changed over the decades. "- Dr. William J. Chiego, McNay Art Museum
San Antonio, Texas (PRWEB) February 22, 2016
The spirit of Coney Island will come alive in South Texas when the McNay Art Museum presents Coney Island: Visions of an American Dreamland, 1861–2008, opening May 11, 2016 through September 11, 2016.
The exhibition explores and celebrates Coney Island, the most iconic, uniquely American Amusement Park in the United States, which has served as national cultural symbol inspiring artists, musicians, novelists, poets, and filmmakers. From Coney Island's beginning as a watering hole for the wealthy, through its transformation into an entertainment mecca for the masses, to the closing of Astroland Amusement Park following decades of urban decline, this first-of-its-kind exhibition uses visual art as a lens to explore 150 years of Coney Island.
Coney Island was organized by the Wadsworth Atheneum Museum of Art, Hartford, Connecticut. The McNay is the exhibition's only Southwest venue. It will feature more than 140 objects, comprised of both celebrated icons of American art and rarely shown works from both public and private collections, including paintings, drawings, photographs, prints, circus posters, sideshow banners, architectural artifacts and carousel animals. Visitors to the exhibition will be immersed in the culture of Coney Island through memorabilia, sound recordings and film clips, including documentaries and popular films.
The modern American mass-culture industry was born at Coney Island, and the constant novelty of the resort made it a seductively liberating subject for artists. From early depictions of "the people's beach" by Impressionists William Merritt Chase and John Henry Twachtman to modern and contemporary images by photographers Diane Arbus and Walker Evans, Red Grooms, Yasuo Kuniyoshi, Reginald Marsh, Joseph Stella, Swoon and George Tooker, Coney Island investigates America's playground as a place and an idea.
What these artists saw from 1861 to 2008 at Coney Island and how they chose to portray it varied widely in style and mood over time, mirroring the aspirations and disappointments of the era and of the country. Taken together, these tableaux of wonder and menace, hope and despair, dreams and nightmares, become metaphors for the collective soul of a nation.
"We are familiar with the phenomenon of amusement parks like Six Flags Fiesta Texas and SeaWorld in San Antonio, but Coney Island is the granddaddy of them all," said Dr. William J. Chiego, Director of the McNay Art Museum. "This is a fun show and it is a departure for the McNay. It is the first exhibition that I can think of that really delves so much into the material culture of the time, and fine artists who were inspired by it. From the carousel animals that are now recognized as a branch of folk art, to banners done as part of side shows – meant to last or not meant to last – these are survivors of an era rather than art that museums traditionally collect. Through fine arts and vernacular arts you get a full sense of what it was like, what it has been, and how it has changed over the decades. "
A fully illustrated 304-page catalogue accompanies the exhibition. Images are available upon request.
About The McNay
Built by artist and educator Marion Koogler McNay in the 1920s, her Spanish Colonial Revival residence became the site of Texas's first museum of modern art when the McNay opened in 1954. Today more than 134,000 visitors a year enjoy works by modern masters including Paul Gauguin, Vincent van Gogh, Edward Hopper, Georgia O'Keeffe, Pablo Picasso, Jackson Pollock, and Pierre-Auguste Renoir. 23 acre, beautifully landscaped grounds include sculptures by Kiki Smith, Joel Shapiro, George Rickey, and Luis Jimenez Jr .The 45,000-square-foot Jane & Arthur Stieren Center for Exhibitions, designed by internationally renowned French architect Jean-Paul Viguier, features three major exhibitions annually.
For more than half a century, the McNay has enchanted visitors with its art, architecture, and ambiance. The museum offers rich and varied exhibitions as well as rotating displays in the Main Collection Galleries from the 20,000 works in the collection, while 45,000 adults, teachers, students, and families take advantage of a variety of education programs and innovative educational resources.
Hours
Tuesday–Friday, 10 am–4 pm; Thursday, 10 am–9 pm;
Saturday, 10 am–5 pm; Sunday, noon–5 pm.
The McNay is closed on Mondays, New Year's Day, Independence Day, Thanksgiving, and Christmas.
Admission to the McNay
Admission to the McNay ranges from $10 to $20 (for adults) and $5 to $15 for (students, seniors and active military) depending on the exhibitions and galleries on view. Admission is FREE for McNay members, Teens 13-19, and children 12 and under. Current admission prices at http://www.mcnayart.org. Entrance to Main Collection Galleries is FREE on H-E-B Thursday Nights (4–9pm) and on Dickson-Allen Foundation First Sundays of the Month. During FREE times, an optional admission charge applies only for entrance to special exhibitions.
Major Support of the McNay's educational programs is provided by the Valero Fund for Excellence in Museum Education, the Nancy Smith Hurd Foundation, and the Hearst Foundations.