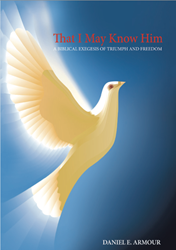 That I May Know Him is a unique Biblical expose unveiling what it means to know Christ and the principles, established through the cross, for walking with Him in ongoing triumph and freedom
SAN DIEGO (PRWEB) February 23, 2016
It doesn't matter who you are, what you do for a living or where you live. Each of us, at times, finds ourselves struggling with sin. This struggle can exist as a continuous, looming guilt or result in full-blown actions of sin beyond our control. Either way, everyone is in search for the true and lasting answer.
Daniel Armour's new book, That I May Know Him, explains the role Christianity plays in our continuous war between human nature and our values held with God. This unique commentary specifically reveals the answer to this war and deals with multiple spiritual laws and their dynamics.
Armour says that Christianity is not based on performance through the physical body in order to fulfill any type of law; rather, it is based on a relationship with God through faith. He believes this relationship begins with the knowledge of God's ways and, when embraced through faith, an intimate and triumphant journey with our Lord can begin.
"That I May Know Him is a unique Biblical expose unveiling what it means to know Christ and the principles, established through the cross, for walking with Him in ongoing triumph and freedom," Armour said.
That I May Know Him
By: Daniel Armour
ISBN: 978-1-49088-131-7
Available at Amazon and Barnes & Noble.
About the author
Daniel E. Armour is an author, engineer and avid student of God's Word. He founded "Threshold Biblical Theology" in 2008 when he received the call to preach the Gospel. Residing in Southern California since his birth in 1960, Daniel met Nancy Saunders in 1983, and they married in 1987. Today, it is their prayer that the many years it took in developing this commentary becomes a volume of insights for each Christian desiring to break through and live an intimate, abundant life in Christ.
**FOR IMMEDIATE RELEASE**
EDITORS: For review copies or interview requests, contact:
Jaymie Shook
317-602-7137 | jshook(at)bohlsengroup(dot)com
(When requesting review copies, please provide mailing address.)