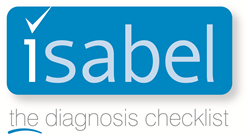 "Isabel Active Intelligence represents the Holy Grail in diagnosis decision support," stated Don Bauman, CEO Isabel Healthcare
Ann Arbor, MI (PRWEB) February 26, 2016
Isabel Healthcare, the world's leading provider of diagnosis decision support tools for providers and consumers announced today that the Isabel Active Intelligence solution is being implemented in its first site. Isabel Active Intelligence is a fully EMR embedded solution that fits entirely into the clinicians workflow totally minimizing the barriers to access that often occur with decision support tools.
The IOM recently released its report "Improving Diagnosis in Medicine" which stated that "most people will experience a diagnosis related error in their lifetime, sometimes with devastating consequences". In addition, the delivery of health care has proceeded for decades with a blind spot: Diagnostic errors—inaccurate or delayed diagnoses—persist throughout all settings of care and continue to harm an unacceptable number of patients. The report also started to look at solutions to help mitigate the problem and a key recommendation is to take advantage of diagnosis decision support tools integrated with the EMR to assist clinicians in broadening their differential diagnosis.
As with most decision support tools, ease of access and additional data entry have been barriers to gaining maximum benefit from their use. With this latest integration these barriers are removed, providing for the most robust integration of the Isabel tool to date.
Isabel has worked to bring differential diagnosis support to the forefront of the clinician's workflow, making it available where and when wanted with minimal interaction/input. When a provider has documented a note, the Isabel tool parses through the note, extracting the pertinent clinical features and directs them to the Isabel DDX engine to generate a list of diagnoses for consideration while thinking through possibilities. This workflow substantially reduces the effort required by a clinician to get differential diagnosis assistance.
"Isabel Active Intelligence represents the Holy Grail in diagnosis decision support," stated Don Bauman, CEO Isabel Healthcare. "By providing access to the provider without any duplicate entry and taking advantage of the notes they have already created, this represents the best possible integration of the Isabel tool making diagnosis decision support always available with a single click of the mouse!"
The integration brings Isabel's highly validated and peer reviewed tool, covering over 10,000 conditions, into the workflow without cumbersome entry or review screens. The Isabel system has been extensively validated with the results appearing in over 40 peer-reviewed journal articles. It has also been written about in books and newspapers and highlighted by patient safety organizations as a helpful tool to assist clinicians in generating and broadening a differential diagnosis list.
Isabel Active Intelligence will be featured at the upcoming 2016 HIMSS conference in Las Vegas, NV in the Isabel booth in the Clinical & Business Pavilion – Booth 14081.
About Isabel Healthcare
Isabel Healthcare Inc. was founded in 2000 by Jason Maude and is named after Maude's daughter who almost died after a potentially fatal illness was not recognized. For over 16 years, Isabel Healthcare has been validated and peer reviewed and is now recognized as the leader in diagnostic decision support. Isabel is the only diagnosis checklist system fully integrated with EMRs. In addition to Isabel Professional, Isabel's family of diagnosis performance solutions also include the Isabel Symptom Checker for consumers and patient engagement, Isabel Clinical Educator, a case based learning platform for clinical learners and Isabel Active Intelligence, a fully EMR embedded diagnosis intelligence solution. Connect with us at http://www.isabelhealthcare.com, or 734-332-0612