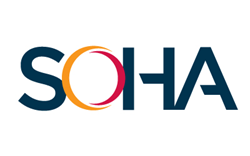 Las Vegas, Nevada (PRWEB) February 22, 2016
Soha Systems, an innovator of enterprise secure access as a service for mobile employees and third parties, will feature Soha Cloud in booth 946 at IBM InterConnect 2016, February 21-25 in Las Vegas.
"Traditional remote access approaches are falling short in their abilities to keep cyber criminals at bay, particularly as more enterprises must provide remote workers and third parties access to their networks and core applications," said Mark Carrizosa, VP Security and CISO at Soha Systems. "With Soha Cloud, we enable organizations to secure remote access for applications in both data centers and hybrid cloud, in a way that is as scalable and agile as the cloud itself."
Soha Cloud offers a new way for enterprises to improve their security posture by delivering secure access to applications, rather than the network as a whole. The solution provides authenticated end users access to only their specific applications, using a unique dual-cloud architecture that closes all inbound firewall ports. This enterprise security as a service approach provides users with stronger security, including multi-factor identification; fast and simple deployments; and lower costs than traditional solutions.
CEO Haseeb Budhani will be at Soha's booth during IBM Interconnect to explain more about the benefits of the solution and share success stories from customers, such as the Arc of Ulster-Greene and Bugcrowd, which have improved their security posture with Soha Cloud.
To set up a meeting with Soha executives or to get a demonstration of Soha Cloud at IBM InterConnect, info(at)soha(dot)io.
About Soha Systems
Soha Systems is an innovator of enterprise secure access as a service for mobile employees and third parties. Our service, Soha Cloud, enables a radically new approach for secure remote access that eliminates VPNs for on-premise and cloud environments, resulting in stronger security – including multifactor authentication – faster, easier deployments and lower cost. Soha Cloud can be deployed as an application's first line of defense in minutes, instead of months, enabling a zero CapEx, low OpEx model for critical workloads deployed in data centers and hybrid cloud environments. For more information, visit http://www.soha.io and join the conversation on Twitter @SohaSystems.