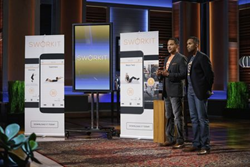 Our mission is to become the leading global standard for all instructional exercise
Washington, DC (PRWEB) February 22, 2016
Sworkit, the leading provider of personalized video workouts for iOS and Android devices made Shark Tank history last week by striking a 1.5 million dollar deal with Shark Tank Investor, Mark Cuban, making it the largest tech deal and third overall largest deal ever to be made on the show.
Sworkit, which stands for "simply work it," is an interactive free fitness app offering users both customizable and randomized workouts that can be performed anywhere, without any equipment required.
Pitching to the sharks for the the D.C. based technology company, was Sworkit's CEO Ben Young, a product innovator who was named 2015's Techpreneur of the Year by Black Enterprise Magazine and COO Gregory Coleman, an ACSM Certified Personal Trainer and prior U.S. Air Force pilot. The two met their first year at The Wharton Business School.
Young and Coleman, approached the Sharks with an aggressive pitch, asking for 1.5 million dollars for 8 percent equity. In the seven seasons of the shows running, only a few contestants have ever attempted to make a pitch comparable in size.
Young and Coleman emerged victorious and negotiated a deal with Cuban at 1.5 million for 10 percent of their company.
Both were thrilled to appear on the popular show and make a deal with Cuban.
"Our mission is to become the leading global standard for all instructional exercise," said Sworkit CEO Ben Young. "The exposure from the Shark tank with allow us to reach even more users.
Prior to last Friday's airing, Sworkit already had more than 10 million downloads and was one of the top ten health and fitness apps.
Young said Cuban's investment will help give Sworkit the resources to double their team and migrate from a leading app, to a leading platform.
"We believe the world would be a better place if everyone had 24/7 access to an affordable personal trainer, whether it's virtual or real, or a combination" said Young.
Overseeing, Sworkit's upcoming project developments will be COO Greg Coleman.
Coleman said the investment with Cuban will allow us to take Sworkit's vision to the next level.
"Now we will be able to grow both our interactive content to further improve the personalized digital workout experience and to reach more screens," said Coleman.
Sworkit has upcoming plans to launch of a web version of the app as well as offer it on Apple TV, Google TV and Roku.
This past year, Sworkit released their Sworkit Kids app, featuring fun exercises and videos demonstrated by kids for kids; and Sworkit Premium, a subscription service loaded with extras including ad-free workouts and the Ask a Trainer feature.
"We knew we were going in with an aggressive pitch but believed that we had the business to back it up, said Coleman. "We are looking forward to working with him and learning from him while together helping Sworkit become the leading platform people turn to first for fitness."
Nexercise launched Sworkit in 2014 to deliver on-demand, video exercise programs that can be done anywhere, anytime. Sworkit has been featured in Lifehacker, Women's Running, Gizmodo, Mashable, Army Times, Brit+Co, Elle Magazine, Shape and more, and received the DC TechDay Techie Award for Best in Health Tech in 2014.
About Veteran PR:
Rooted in the belief that hard work coupled with honesty and integrity is the key to any success, Veteran PR strives to help companies build their brand awareness through strategic and effective Public Relations Campaigns and Social Media Marketing Efforts. Veteran PR launched in 2015 after military veteran, Staff Sergeant Jason Thomas, teamed up with his wife and seasoned PR professional, Nicki Thomas. Together their vision is to help small businesses, especially veteran owned businesses, build their brand awareness with a PR Company business owners can trust.