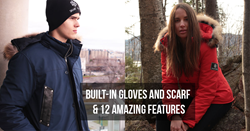 People demand technical innovation in the fashion industry.
Toronto, ON (PRWEB) February 22, 2016
North Aware, Inc., founded by a software developer, raised over $500,000 CAD in less than 4 weeks, and pledges continue to grow. The Smart Parka is a winter coat that features built-in touchscreen gloves, a built-in scarf, tech pockets for smart phones and tablets, a length extension, removable lining, hood pocket for a hat and a tracker pocket. The coat comes in seven styles and six different colors.
Jamil Khan, founder of North Aware, had quit his six-figure software developer job when he realized there was a disconnect between current outerwear and changing needs of the market. "The Smart Parka shows there's a gap in the outerwear market when it comes to truly protecting people from winter weather," says Khan, "technology is constantly transforming our lives. Why aren't coat makers innovating to meet consumers' changing needs?"
It is the product of a year of development and collaboration between Khan and a product design team in Toronto, and is slated for delivery in August 2016. Not only does it address technology needs, but it finally solves the age-old maddening problem of remembering and searching for gloves and scarves at the last minute.
"I wanted to bring fashion and function together," says Khan, "the wild success of the Smart Parka is proof that people demand technical innovation in the fashion industry".
The retail price of the Smart Parka is $740 (CAD). Kickstarter backers will receive the coat at a highly discounted price starting at $295 (CAD). With the exchange rate benefiting US buyers, those in the US can get the parka for around $210 (US).
The Smart Parka Kickstarter went live on Tuesday, January 26th at 10:00 AM EST.
Smart Parka Kickstarter: http://prlive.northaware.com
Smart Parka Media Kit (includes video, images and gifs): http://northaware.com/main/media
About North Aware: Started by Toronto software developer Jamil Khan in January 2015, North Aware's goal is to make people go out more in winter. The company aims to penetrate the winter wear market by combining fashion with function. North Aware launched its first Kickstarter, for the Smart Parka, in January 2016.
Contact: Melissa Gardner, PR Coordinator, North Aware
Phone: +1 (416) 939-4299
Email: pr@northaware.com