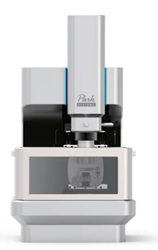 Park NX 10 SICM provides a platform that allows both AFM and SICM for nanoscale imaging. This provides the user with flexibility in sample choice and the opportunity to apply the most state of the art techniques, states Dr. Lane Baker, Indiana University
Santa Clara CA (PRWEB) February 22, 2016
Park Systems, world leader in atomic force microscopy (AFM) is offering a nanotechnology webinar series titled Advanced Techniques in Electrochemistry starting on Feb. 23, 2016 at 9am PST. Electrochemistry, which links molecules, ions and electrons through electrochemical reactions, is introduced in the first webinar given by Dr. Lane Baker of Indiana University. The lecture will also cover Nanoscale In-Liquid Imaging using Park Scanning Ion Conductance Microscopy (SICM), which Dr. Baker says is definitely "Not as tough as you thought". To register online for the free webinar go to: http://www.parkafm.com/webinar_23feb2016
"Electrochemical imaging techniques utilize the measurement of electrons or ions to record the electrical, chemical, biological and physical properties of a sample. SICM provides high resolution, noncontact imaging and requires electrolyte solutions necessary for energy applications and biological studies," explains Dr. Baker, who leads the Baker Group at Indiana University, a group of analytical and materials chemists whose research covers a broad area of topics in electrochemistry, bioanalytical chemistry, new mass spectrometry methods, materials for electrode fabrication and instrumentation development.
Prof. Baker, who has been applying his knowledge to further nanopore use in developing chemically and biochemically selective membranes, sensors, and new electrochemical imaging techniques will discuss the history of SICM, its various feedback modes, the advantages of each one, and where SICM might be going in the future.
"Park NX 10 SICM provides a platform that allows both AFM and SICM for nanoscale imaging. This provides the user with flexibility in sample choice and the opportunity to apply the most state of the art techniques," adds Dr. Baker.
SICM is an advanced tool gaining momentum to investigate the frontiers of nanoscience to make advancements in chemistry, medicine, sensors, semiconductor and many other industry segments. Nanopipette probes used in SICM are effectively nanoscale sensors. Ion currents can be measured directly, and by combining SICM with hybrid techniques, additional signals (e.g. optical, electrical) can be measured.
Scanning Ion Conductance Microscopy (SICM) was invented by P.K. Hansma and co-workers at the University of California in 1989 and enables high-resolution imaging of cell surface topography. In Scanning Ion Conductance Microscopy developed by Park Systems (Park SICM), a glass nanopipette (a pipette in the nanoscale) filled with an electrolyte, acts as an ion sensor that provides feedback on its location relative to a sample completely immersed in a liquid. The pipette-tip maintains its distance from the sample by keeping the ionic current constant. In comparison, Atomic Force Microscopy (AFM) typically relies on interaction of forces between a probe tip and the sample.
Park SICM operates in a liquid without making physical contact with the sample. Electrodes on either side of the sample and pipette produce an ionic current that flows through the surrounding solution. A sensor measures the current flow, which decreases as the distance between the pipette and sample becomes smaller. This monitors the distance and directs the positioning of pipette and sample to maintain non-contact status. Park SICM applies no force to the sample surface and is ideal for nanoscale imaging of soft live cell membranes.
This webinar is part of an ongoing series offered by Park Systems' Nano Academy, a platform for providing education and shared knowledge on the latest nanotechnology advancements.
"Park NanoAcademy is proud to offer this exciting series of webinars on electrochemistry which is rapidly advancing nanoscientific field of study," comments Keibock Lee, President Park Systems. "These webinars on the incredibly fascinating topic of electrochemistry are free and a great opportunity for shared knowledge among scientist and engineers currently studying applications in this field of nanotechnology."
To register for this webinar, go to: http://www.parkafm.com/webinar_23feb2016
About Park Systems
Park Systems is a world-leading manufacturer of atomic force microscopy (AFM) systems with a complete range of products for researchers and industry engineers in chemistry, materials, physics, life sciences, semiconductor and data storage industries. Park's products are used by over a thousand of institutions and corporations worldwide. Park's AFM provides highest data accuracy at nanoscale resolution, superior productivity, and lowest operating cost thanks to its unique technology and innovative engineering. Park Systems, Inc. is headquartered in Santa Clara, California with its global manufacturing, and R&D headquarters in Korea. Park's products are sold and supported worldwide with regional headquarters in the US, Korea, Japan, and Singapore, and distribution partners throughout Europe, Asia, and America. Please visit http://www.parkafm.com or call 408-986-1110 for more information.
About Professor Lane Baker
Prof. Lane Baker, the James F. Jackson Associate Professor of Chemistry at Indiana University, received a B.S. degree from Missouri State University in 1996. He was awarded his Ph.D. degree at Texas A&M University in 2001 working with Richard M. Crooks. He was then awarded a National Research Council Postdoctoral Associateship to study scanning probe microscopes with Lloyd J. Whitman at the Naval Research Laboratory in Washington, D.C. He studied nanopore membranes and single nanopore platforms as a postdoctoral associate with Charles R. Martin at the University of Florida. His website is at: http://www.indiana.edu/~bakergrp/wordpress/