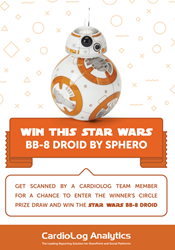 Boston, MA (PRWEB) February 22, 2016
The Intlock team will be in Austin, Texas from February 21st to the 24th for SPTechCon (otherwise known as the SharePoint Technology Conference.) The team will be exhibiting CardioLog Analytics at booth 501.
The event will host 80 technical classes and tutorials presented to help those utilizing SharePoint technology and maximize their effectiveness with it. SPTechCon Austin will feature the first conference sessions on SharePoint 2016, the next release of SharePoint expected early next year! More resources will be provided on working with SharePoint 2013 and Office 365, with practical information to put to use right away.
SPTechCon will offer classes and tutorials for IT professionals, business decision makers, information workers, project managers, and developers. Each presenter at the conference will be a true SharePoint expert, with many drawn from Microsoft's tech teams or from outside authorities with Microsoft MVP status.
The Intlock team will also be raffling an exciting prize - a Starwars BB-8 DROID. Get scanned by a team member for the chance to win!
About Intlock:
Intlock has been a leader in the field of SharePoint analytics since 2005. The company's products - SharePoint Marketing Suite and CardioLog Analytics - provide comprehensive web-analytics and online marketing solutions for enterprise-level websites and intranet portals. Intlock delivers deep insight into the performance of organization's web and portal initiatives through testing, tracking and targeting, ultimately enabling users to optimize their site's impact and maximize the return on investment.
One of Intlock's key strategies is partner alliances. Intlock believes that working together with partners is crucial for cost effectiveness and ease of implementation. Partner alliances shorten implementation times and enable the adaptation of Intlock's products to any technological environment a customer may have. Parties interested in a partnership with Intlock can contact the company: contact here and someone will gladly be in touch.
Intlock is led by a team of experts in the fields of application development, knowledge management, web analytics, portal monitoring and control, and software engineering. Intlock's products and solutions are installed in organizations from various industries, including financial services, telecommunication, entertainment services and others.