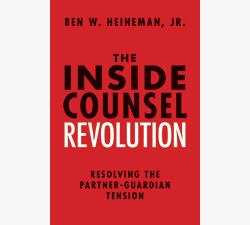 Chicago, IL (PRWEB) February 24, 2016
The Inside Counsel Revolution: Resolving the Partner-Guardian Tension by Ben W. Heineman, Jr., former General Electric General Counsel and a founding father of the inside counsel movement, describes the past, present and future of this transformation. He takes a critical and careful look at the central role of General Counsel in advancing the core mission of today's corporation: to achieve high performance with high integrity and sound risk management. He explains how to resolve the critical tension facing inside counsel—being partner to the board of directors, the CEO and business leaders, but ultimately being guardian of the corporation.
Corporations began to hire more sophisticated and accomplished inside lawyers, not just to reduce the cost and influence of outside law firms, but also to meet a leadership imperative as corporations faced an ever-expanding agenda of "business in society" issues. There has been an exponential growth in risks and opportunities affecting the performance of the corporation from legislators, regulators, enforcers, the media, interest groups, competitors, non-governmental organizations, the public and geopolitics in different complex markets all across the globe. Helping to navigate these crosscurrents, Heineman maintains, has placed the General Counsel at the right hand of the CEO and the board of directors.
"The General Counsel," writes Heineman, "must have the character and independence to speak her mind, the courage to stand up in contentious groups and situations, the capability to see problems from many angles, to analyze risk, and to self-confidently help articulate a vision for the company. She must hold three fundamental roles—as technical expert, wise counselor and accountable leader—and be able to execute them simultaneously."
Backed by examples and case studies from companies like GE, Siemens, Enron, Google, Wal-Mart and dozens more, Heineman advances a robust and sophisticated approach for addressing a corporation's most pressing issues. The General Counsel must play a central role in establishing an integrity culture, addressing complex global legal risk, setting ethical standards beyond what law requires, participating in crisis management, defining corporate governance including pay for performance with integrity, and ultimately, defining corporate citizenship.
Heineman has written a definitive volume that not only details the key functions and dilemmas of the inside counsel as a lawyer-statesman, but provides a framework for resolving the critical partner-guardian tension between General Counsel, CEO and board.
BEN W. HEINEMAN, JR. is a legendary and transformative figure who dramatically altered the role, power, status and prestige of the general counsel in corporations and shifted power from outside law firms to inside law departments. He was Senior Vice President–General Counsel for General Electric from 1987 to 2003 and then Senior Vice President for Law and Public Affairs from 2003 until his retirement in 2005. He served under CEO Jack Welch and then Welch's successor Jeff Immelt. Heineman's model for the modern inside law department is now widely followed in major corporations in the United States and, increasingly, in Europe and Asia. Prior to GE, Heineman was a Rhodes Scholar, editor-in-chief of the Yale Law Journal, law clerk to Supreme Court Justice Potter Stewart, public interest lawyer, assistant secretary for policy at HEW and Supreme Court litigator. Since his retirement, Heineman has taught at Harvard and Yale professional schools and has written and spoken extensively on business, law, policy and ethics in the context of globalization.
Editor's note: Advance reader copies and author interviews are available by emailing Jill Nuppenau at jill.nuppenau(at)americanbar(dot)org. If you publish a review of this book, please send tear sheets or a copy for our files to Jill Nuppenau, c/o ABA Publishing, 321 N. Clark St., Chicago, IL 60654.
This new book is available for pre-order on http://www.amazon.com and also as an e-book.
Ankerwycke, launched in December 2014, is the consumer-oriented imprint of the American Bar Association, one of the largest voluntary professional membership organizations in the world with more than 400,000 members. In 1215, Magna Carta was sealed underneath the ancient Ankerwycke Yew tree, starting the process which led to rule by constitutional law — in effect, giving rights and the law to the people. Today, the ABA's Ankerwycke line of books continues to bring the law to the people. With legal fiction, true crime books, popular legal histories, public policy handbooks, and prescriptive guides to current legal and business issues, Ankerwycke is a contemporary and innovative line of books for everyone from a trusted and vested authority. Follow Ankerwycke on Twitter @AnkerwyckeBooks.