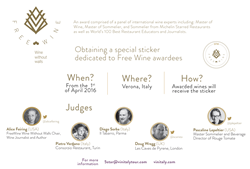 "Natural wine has broken the rules and has introduced the drinking world to a broader range of colors, flavors and textures. In the near future we won't be talking about natural but about beautiful wines that have emotional impact." Alice Feiring
(PRWEB) February 22, 2016
While there are no legal criteria for the definition of "natural wine", and calling wines natural is even prohibited in some EU member states, that has not stopped such wines from becoming a strong force on today's wine landscape. The world is seeing a huge clamor for them and according to many experts on the subject of wines made with minimal human intervention, their very existence is calling into question what is a wine and how does one judge it?.
In recognition of the growing importance and relevance of these wines, Vinitaly will organize a new event. This gathering, an award called "Free Wine, Wine Without Walls" (a.k.a."Free Wine"), will be held in the city of Verona on April 1st, 2016.
The parameters to judge Free Wine seems to be challenging. A 'true' natural wine could be considered one produced using organic (or biodynamic) principles with minimum technological intervention. To make it super-simple, "most believe the wines to originate from some sort of organic viticulture, minimally processed and then made in the cellar without anything added or taken away. Yes, this means that some additives that other winemakers hold as essential are not employed. For example, to the 'natural winemaker', adding yeast to start fermentation or using more than 20 ppm of the preservative sulfur is frowned upon, and believed to be exerting much interference in the winemaking" comments Alice Feiring.
In recognition of these wines, this year at Vinitaly a panel of 5 international wine experts that include: Pietro Vergano (Restaurante Consorzio, Torino), Diego Sorba (Il Tabarro, Parma), Doug Wregg (Cave de Pyrene, London), Pascaline Lepeltier (New York via France) and chaired by Alice Feiring (USA) American journalist and exponent for "natural" will taste and assess the participating wines.
The special recognition will dramatically break from convention: the wines will not be scored. Instead the judges will look for a wine that demonstrates at least six of eight qualities, these include evolution in the glass, emotional impact and transparency. In addition, there are parameters to ensure that the wines are practically natural from the ground up. This means that some form of organic viticulture is necessary, and in order to ensure that minimal winemaking remains intact the use of ingredients products or machines that may alter the organoleptic and physical properties of wine such as yeasts, bacteria, tannins, gum arabic, tartaric acid, enzymes, excessive sulfite, anti-microbials, thermovinification, reverse osmosis, irrigation, concentrators, or malolactic fermentation block and others will not be allowed. This award is meant to celebrate the wines made with grape alone that manage to be glorious.
With its prestigious award bestowed only to those wines deemed to have merit by the distinguished judges panel on hand, Free Wine- Wine without Walls aims to highlight the quality of wines from grapes that follow organic viticulture practice that are low-input, low-sulfite from the world over.
Winning wines and estates will be announced on Sunday, April 10, in a special presentation to be held at Vinitaly in Verona, in the presence of Alice Feiring and the judges on her panel, as well as Stevie Kim, Managing director of Vinitaly International and creator of Free Wine, and Ian D'Agata, Scientific director of Vinitaly International Academy.
About:
Veronafiere is the leading organizer of trade shows in Italy including Vinitaly (http://www.vinitaly.com), the largest wine and spirits fair in the world. During its 49th edition Vinitaly counted some 4.000 exhibitors on a 100.000 square meter area and 150.000 visitors including more than 2.600 journalists from 46 different countries. The next edition of the fair will take place on 10 - 13 April 2016.
The premier event to Vinitaly, OperaWine (http://www.vinitalyinternational.com) "Finest Italian Wines: 100 Great Producers," will unite international wine professionals on April 9th in the heart of Verona, offering them the unique opportunity to discover and taste the wines of the 100 Best Italian Producers, as selected by Wine Spectator. Since 1998 Vinitaly International travels to several countries such as Russia, China, USA and Hong Kong thanks to its strategic arm abroad, Vinitaly International. In February 2014 Vinitaly International launched an educational project, the Vinitaly International Academy (VIA) with the aim of divulging and broadcasting the excellence and diversity of Italian wine around the globe. VIA has now also created its very first Certification Course with the aim of creating new Ambassadors of Italian Wine in the World.
###