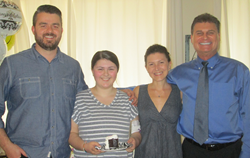 Until psychiatrists throughout America become 'Lyme literate', these bipolar and schizophrenic patients will continue to be misdiagnosed.
Oldsmar, FL (PRWEB) February 26, 2016
When Gracie came to Sponaugle Wellness Institute, she needed a wheelchair and her speech was neurologically impaired. Fourteen year old Gracie was experiencing progressive Multiple Sclerosis-like symptoms that were caused by neurological Lyme disease and severe neurotoxicity. Gracie experienced a myriad of neurological symptoms on a daily basis; Lyme-induced seizure-like activity, tremors, brain fog, memory loss, confusion, light sensitivity, burning neuropathic pain, neurological limb weakness, total body pain and the classic joint pain seen in patients with severe cases of Lyme disease.
Her family traveled from Canada to the United States for specialized treatment, however, Gracie's doctors concluded her seizure-like activity, inability to walk and inability to speak were "all in her head." Ultimately, through speaking with other Canadian families Gracie's parents found Sponaugle Wellness Institute.
During his initial consultation, Dr. Sponaugle reviewed Gracie's PET Brain scan to better determine whether her impaired speech was due to Lyme infection in the Broca's area, or toxin-induced down-regulation of brain activity. After concluding Gracie's speech was impaired more from neurotoxins than from Lyme disease, Dr. Sponaugle designed an individualized neurological treatment that restored Gracie's speech to normal in just four weeks.
Restoring Gracie's ability to walk, and to ride a bicycle as seen in her video, was more challenging than restoring her speech, because of her severe neurological Lyme disease. Ultimately, Gracie required eight months of intensive neurological Lyme treatment to recover from her Lyme-induced MS symptoms.
Gracie's treatment required frequent reassessment and redesign by Dr. Sponaugle, it consisted of multiple different modalities of intravenous therapy on a daily basis. Every neurological Lyme patient is different and their treatment must be individualized, Dr. Sponaugle does not have a "one size fits all" protocol for neurological Lyme patients. Reports back to Sponaugle Wellness from Gracie, since she returned home, indicate that today she lives free of the neurological issues that defined her for years until completing treatment at the end of 2015.
Using his sophisticated brain research for guidance, Dr. Sponaugle designs a more specific treatment protocol for each individual Neuro-Lyme patient. Dr. Sponaugle credits both, his Brain expertise and his ICU training, with giving him more success in treating Chronic Lyme patients, who like ICU patients, suffer damage in every organ, including the brain.
Dr. Marvin "Rick" Sponaugle, founder of Sponaugle Wellness Institute, is an Integrative physician who has treated over 9,000 patients with brain disorders and neurological impairment. Dr. Sponaugle initially performed his specialty training in Intensive Care Medicine and Anesthesiology at the University of Florida. Dr. Sponaugle had practiced Critical Care Medicine for 16 years by 2001 when he became fascinated with modern brain science. Since 2001, Dr. Sponaugle has spent 4,000 hours performing an intensive study of worldwide PET and SPECT brain imaging.
For more information about Lyme Disease Treatment of wheelchair patients at Sponaugle Wellness Institute, please contact a patient coordinator at 727-945-9198.