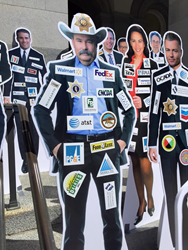 We are excited to see so many established groups offer their support to this campaign.
San Diego, CA (PRWEB) February 24, 2016
The California Is Not For Sale Initiative is proving to be a very popular one, already generating almost 70,000 signatures in less than a month of circulation. It is also attracting national attention, with several major campaign finance reform organizations contacting us to lend assistance in various forms.
Today, California Is Not For Sale announced partnerships with CounterPAC, MAYDAY.US, Stamp Stampede, and Change.org. MAYDAY.US was formed by noted Harvard law professor and author of several books about campaign finance, Lawrence Lessig and is composed of major national figures on both ends of the political spectrum. Stamp Stampede is primarily funded by Ben and Jerry's founder Ben Cohen, who is also intimately involved in the Bernie Sanders Presidential campaign.
These organizations have all offered to support the campaign and will be pursuing avenues for jointly broadcasting messages to Californians.
The California Is Not For Sale initiative is a groundbreaking statutory change intended to highlight and ridicule an absurd political system under which well funded entities such as unions and corporations are able to manipulate government by funding and staffing the campaigns of the legislators – the decision makers who should be representing the general public, not parochial interests.
This initiative requires legislators to wear the logos of their sponsors when they cast votes or give testimony. It would also require the listing of the top ten contributors on all campaign advertising material. It is not intended to be a solution to the problem but to focus the public on the problem and lead to implementation of an effective and viable solution to this important impediment to reform.
San Diego entrepreneur and Chairman of Chairman of Change California, Inc, John Cox, said in a statement, "We are excited to see so many established groups offer their support to this campaign. In order to see this campaign through, we will need the aid of those who are dedicated to meaningful reform and who believe that we cannot wait for another year and another election to solve these problems."
The initiative comes on the heels of a heated debated regarding campaign finance which has been a major focus point of the 2016 Presidential Election. Time Magazine reported in late 2014 that money spent on political campaigns nationally has increased by 500% since 1985.
"That money comes from wealthy companies and special interests that curry favor with elected officials. It is totally legal according to the laws on the books, but they are able to wield incredible power in our State," said Cox.