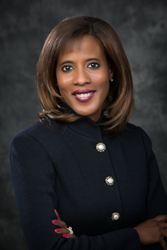 Suitland, Maryland (PRWEB) February 23, 2016
Andrews Federal Credit Union's Damita Robinson, Senior Vice President of Human Resources, was recently invited to attend the 2016 National Security Seminar by U. S. Army War College Commandant Major General William E. Rapp. The event will be held June 6-9, 2016 at the U.S. Army War College in Carlisle, PA.
The National Security Seminar (NSS) is a four-day event that creates an environment for Army War College students and invited guests to examine current national security issues and exchange candid dialogue. NSS provides a forum for distinguished speakers to discuss their views on issues of importance to the nation's security and welfare with New Members, resident students, International Fellows, staff and faculty.
"It is an honor to be selected to participate in this prestigious event," said Robinson. "I want to thank Andrews Federal Board Treasurer Brig. Gen. Roger Scearce (Ret), for the nomination, and look forward to learning more about national security from this distinguished group of presenters."
On nominating Ms. Robinson for the Seminar, Brig. Gen. Scearce (Ret.) stated, "Damita is the epitome of a truly outstanding credit union senior executive who strives for excellence in all she does – and the HR team and reputation she has built at Andrews Federal certainly demonstrates that. She will bring immense private sector financial community leadership and experience to the US Army War College National Security Seminar Week. The real beneficiaries of her attendance and participation will be the senior military officers in her seminar. I am convinced that her contributions will be many, and her perspectives insightful, relevant and very meaningful. I am honored to have nominated her."
Approximately 160 invitees join resident student seminar groups for the event. These New Members come from across the country and are a cross-section of American life, representing a broad range of occupations, geographic regions, and age groups.
About Andrews Federal Credit Union
Andrews Federal Credit Union was founded in 1948 to serve the needs of military and civilian personnel by providing a vast array of financial products and services. With over $1 billion in assets, Andrews Federal has grown to serve more than 116,000 members in the District of Columbia, Joint Base Andrews (MD), Springfield, Virginia (VA), Joint Base McGuire-Dix-Lakehurst (NJ), and military installations in central Germany, Belgium, and the Netherlands. In addition, the Credit Union serves as a financial partner with many select employee groups in Maryland, the District of Columbia, Virginia and New Jersey.
To learn more about Andrews Federal Credit Union and its community involvement, or to become a member, call 800.487.5500 or visit http://www.andrewsfcu.org.