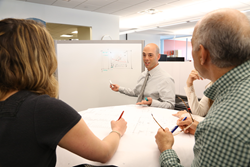 "The key difference in the new healthcare era is in the relationships health systems are engaging in with their communities to provide social and lifestyle amenities geared toward fostering behavioral change for population health," states Barmada.
Philadelphia, PA (PRWEB) March 21, 2016
Building Design + Construction's annual healthcare issue always includes current trends, news from renowned health systems and thought leaders' views on where the industry is heading and what the year's forecast holds.
The February 2016 issue is no different - and features Array Advisors as well as healthcare clients with whom they are currently collaborating. Issues such as care coordination in the reform era, balancing inpatient bed demand with outpatient procedure increases and attracting long-term customers with wellness and preventive care facilities are explored.
Industry leaders such as Fady Barmada and Mark Corr, President & COO of Signet Enterprises were interviewed to tap their expertise on healthcare delivery trends and how health systems can improve health outcomes and maximize ROI. .
Array's client, Robert Wood Johnson University Hospital, was featured for their innovative partnerships with education leaders such as Rutgers University in support of their medical school and cancer institute. Robert Wood Johnson is also active in the health and wellness arena, offering strategically-located centers across the state of New Jersey. "We view this as part of our focus on population health," says Michael Knecht, RWJ's Corporate VP, Community Outreach. Integrated Wellness Partners, part of Signet Enterprises, provides full-service development and management of wellness centers throughout the nation. This trend toward partnerships of health systems and developers has become a proven method for successfully bridging care continuum gaps, providing community assets and encouraging healthy lifestyles.
Planning for the US population's aging is also an important investment for health systems. As systems expand their reach by updating existing facilities, building outpatient centers and evaluate the potential to develop Greenfield facilities, long-term care beds and nursing homes are also on the radar.
Healthcare real estate portfolio optimization needs to be a goal on which every health system is focusing. Strategy and Transformation are now more than industry buzzwords, they are prominent factors in the long-term success of healthcare organizations across the US.