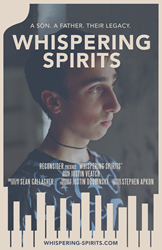 Whispering Spirits uniquely approaches a subject that is often kept quiet in many suburban communities
Yorktown Heights, NY (PRWEB) February 24, 2016
Like Six Degrees of Separation, most all Americans are touched in some way by the drug crisis. The new documentary film Whispering Spirits, being touted as one of the best new films dealing with drug abuse, shows that death from drug use can happen to anyone and to any family. Directed and edited by filmmaker Sean Gallagher, Whispering Spirits tells the story of Justin Veatch, a musically talented suburban New York high school senior who died from an accidental drug overdose in 2008. As a haunting tribute, the entire soundtrack of the film is comprised of Justin's music.
With the help of the non-profit media company Reconsider, Whispering Spirits is being made available free of charge to community anti drug coalitions searching for impactful new programs dealing with the drug crisis. Being shipped in March the film will be combined with a "toolkit" that includes a discussion guide authored by Student Assistance Services Corp of Tarrytown, NY. "The toolkit will provide helpful ideas for how to maximize the film's impact," says SAS Corp's executive director Ellen Morehouse. "The discussion guide will enable youth and adults to better understand everyone's role in preventing substance use disorders and drug overdose."
Whispering Spirits was made available to members of the Community Anti-Drug Coalitions of America (CADCA) at its National Leadership Conference held in National Harbor, Maryland February 1st through 4th. "More than 120 coalition members from 22 states signed up for the film right away" says Jeffrey Veatch, Justin's father who is featured in the film and who presents the multi-media talk A Message from Justin to students. "The comments we have gotten are quite positive" says Veatch who also hopes the film's distribution will result in his talk being delivered across the country. "I have just retired from nearly 40-years as a news writer for ABC News Radio," says Veatch, "so the timing is perfect for me." Profits from Veatch's talk benefit The Justin Veatch Fund, a 501(c)3 organization created by the Veatch Family to honor Justin's legacy with scholarships and music programs for teens.
The Alliance for Safe Kids (ASK) in Yorktown, NY which screened the film at last year's Save A Life forum along with Veatch's talk, is among the more than 5,000 CADCA members across the US. "Whispering Spirits provided a unique opportunity to share a genuine portrayal of the tragic loss of a talented teen who had many friends and came from a loving and supportive family," says Tricy Cushner, President & CEO of ASK. "This film helps to remove the stigma of drug addiction by realizing who can fall prey to substances and who can help. This documentary impacted our community to get more involved through education and awareness as community responders who change the culture from 'look the other way' to a 'count on me' approach."
"Whispering Spirits uniquely approaches a subject that is often kept quiet in many suburban communities," says Suzie Ross, Co-Founder of the Ossining Documentary & Discussion Series in Ossining, NY which screened the film and hosted a panel discussion last winter. "Unlike many documentaries about losing a loved one to heroin, Whispering Spirits' perspective has the ability to more profoundly raise awareness to young and old alike of how easy someone can fall prey to this epidemic. Our screening attracted a full representation of our community from school administrators, students, parents, health professionals, musicians, artists, to recovering addicts. It also allowed us to make the easy link to the array of health-related resources in our backyard that many were unaware of."
The film took two and a half years to produce. "I wanted to provide an intimate look at how one family struggles with their loss but more importantly, how they maintain the legacy of a loved one," says the film's director Sean Gallagher. "The empathy that comes along with understanding the experience of the Veatch family is something I believe can spark conversation in communities."
Gallagher's first feature-length documentary, Brothers of the Black List, about the longest litigated civil rights case in US history, was awarded 'Best Documentary' at the Catskill Mountains Film Festival and was also recognized at DOC NYC, DocuWest, and Dallas International Film Festival.
The coalitions that signed up to screen the film at the CADCA Conference are from states all across the United States including California, Washington, Oregon, Colorado, Texas, Michigan, Indiana, Illinois, Kentucky, Louisiana, Florida, Pennsylvania, Rhode Island, Massachusetts, New Hampshire and Maine.
Non-profit organizations that wish to use Whispering Spirits to anchor a community program can view and obtain the film along with its "toolkit" & discussion guide by visiting whispering-spirits.com.