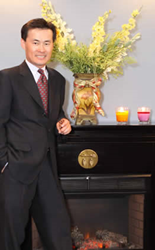 Diamond Bar, CA (PRWEB) February 22, 2016
Dr. Jin Kim is honoring Gum Disease Awareness Month in February by educating his patients on the dangers of this condition and stressing the importance of prompt treatment. Millions of adults in the U.S. suffer from periodontal disease, according to the Centers for Disease Control and Prevention, and many go without treatment which raises the risk of related health complications. To help patients avoid these issues, Dr. Kim offers a minimally-invasive laser dentistry treatment for gum disease in Diamond Bar, CA and Garden Grove, CA.
Gum disease can produce numerous adverse effects if it advances into periodontitis. According to the National Institutes of Health, during this stage of the disease, the gums pull away from the teeth, creating pockets that can harbor infections. These infections damage the bone and tissue that support the teeth, raising the risk of tooth loss. Research suggests that victims of gum disease are more likely to have difficulty managing their blood sugar, deliver low birth weight babies or develop chronic illnesses, including heart disease, stroke and pancreatic cancer.
Given these risks, Dr. Kim is reminding patients of the importance of visiting him for treatment for gum disease in Diamond Bar, CA, and Garden Grove, CA, as soon as they notice symptoms. With the LANAP® protocol, Dr. Kim can precisely target bacteria and diseased gum tissue while saving as much healthy tissue as possible to protect the teeth. This laser dentistry procedure is less invasive than traditional gum surgery, which reduces the risk of patients experiencing pain, bleeding or infection. The laser that Dr. Kim uses even helps encourage regeneration of the bone that supports the teeth, which may lower future risk of tooth loss.
During Gum Disease Awareness Month, Dr. Kim encourages patients to be responsive to common symptoms of periodontal disease, such as swelling, bleeding and gum pain. People who notice these signs of gum disease in Diamond Bar, CA or Garden Grove, CA, are invited to contact Dr. Kim's office or visit his website at http://www.drjinkim.com to schedule a consultation and learn whether they could benefit from laser dentistry treatment.
About the Doctor
Dr. Jin Y. Kim is a periodontist dedicated to providing personalized dental care in Diamond Bar, & Garden Grove, CA. Dr. Kim attended the University of Sydney Faculty of Dentistry before furthering his education with an advanced degree in pathology from the Medical School of the same University. Dr. Kim completed a periodontics and implant surgery residency at UCLA School of Dentistry. A uniquely dual board-certified specialist, Dr. Kim was board-certified by the American Board of Periodontology and the American Board of Oral Implantology/Implant Dentistry. The International Congress of Oral Implantologists and the American Academy of Implant Dentistry both gave him the title of Fellow. He was also inducted to be a Fellow of prestigious American College of Dentists. Dr. Kim enjoys lecturing at UCLA School of Dentistry as well as national and international academic and clinical associations and universities including the International Association of Dental Research, American Academy of Periodontology and Academy of Osseointegration. To learn more about Dr. Jin Kim and the services he offers visit his website at http://www.drjinkim.com or call (909) 347-6808 to schedule an appointment.