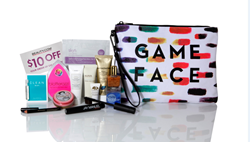 Bellevue, WA and New York City, NY (PRWEB) March 01, 2016
Beauty.com®, a division of drugstore.com, inc., is springing into the new season by offering the exclusive MILLY Game Face Bag as a complimentary gift for shoppers. Beginning March 1st, customers will receive the second installment of the MILLY Game Face Bag series when they spend $125 or more at the prestige beauty retailer.* The product-filled, brightly-colored cosmetics bag can be found at http://www.Beauty.com/Milly and is available while supplies last.
The 2016 MILLY Game Face Bag features a vibrant paint stroke design. The oversized cosmetics pouch is spacious enough for toting all your makeup and skin care essentials. "I am thrilled for my collaboration with Beauty.com," says MILLY designer Michelle Smith. "With a vibrant painterly print straight from my Spring '16 runway collection, this pouch is the perfect size. Put your game face on for spring!"
The MILLY Game Face Bag arrives fully stocked with 12 prestige beauty samples in both deluxe and full sizes. The cosmetics bag and its contents have an approximate combined retail value of more than $150. The selection includes offerings from some of the beauty world's top beauty and skin care brands:
1. Skyn ICELAND Hydro Cool Firming Face Gels – Forehead Patch (.21 oz)
2. Invisibobble Hair Ties, Navy Blue (3 ea)
3. Jay Manuel Beauty The Everything Mascara, Noir (.28 fl oz)
4. Origins Plantscription Anti-Aging Power Serum (5 ml)
5. BeautyBlender Blotterazzi with Liquid Cleanser
6. Kevyn Aucoin The Eye Pencil Primati, Defining Navy
7. Ahava Deadsea Mineral Hand Cream (20 ml)
8. Clean Fragrance Rain VOC (1 ml)
9. Korres Greek Yoghurt Foaming Cream Cleanser (20 ml)
10. Soap & Glory Great Kisser Lip Moisture Balm, Vanilla Bean (.63 oz)
11. NUXE Dry Oil Shimmer (.33 fl oz)
12. Phyto Phytocitrus Color Protect Radiance Mask (50 ml)
13. Beauty.com offer card
While looking to reach the $125 hurdle and receive the MILLY Game Face Bag, customers can shop an assortment of new-to-store make-up brands including Jay Manuel Beauty, Jane, and Makeup Bullet. To refresh and awaken skin for spring, Beauty.com continues to offer great hydrating and moisturizing products from customer-favorite brands such as Perricone MD, ClariSEA, and Origins.
Keep up with seasonal spring nail trends by shopping new product offerings from Londontown and Nailing Hollywood. For new hair accessories and tools, Invisibobble and Instyler are now available on Beauty.com.
For seasonal beauty content, shoppers can look to the Beauty.com Advice & Trends page for personalized skincare regimens, makeup how-tos, and travel must-haves. The latest installment of the My Life In Beauty feature focuses on founder and creator of Londontown, Marina Dimentman. On the Beauty Close Up blog, Beauty Director-at-Large Romy Soleimani continues to share her favorite product picks for the season as well exclusive, behind-the-scenes glimpses from New York Fashion Week Fall/Winter 2016..
Beauty fans can continue to look to the Beauty.com social media channels Instagram, Twitter and Pinterest to find featured products spanning makeup, skin-care, hair care and fragrance. Other benefits include "Free 1-3 day shipping for purchases over $35,"** 5% back on every purchase with drugstore.com dollars™**, speedy shipping, the complimentary sampling center, 100% satisfaction guarantee***, and a shared online shopping cart with the Beauty.com partner site, http://www.drugstore.com. Beauty fans can also get the latest tips, trends, and promotions sent directly to their email by signing up for the complimentary weekly Beauty Bulletin on the Beauty.com site.
*While supplies last. This MILLY Game Face Bag is available at http://www.Beauty.com with any purchase of $125 or more. Offer may be applied only once per household. May not combine with any other offers. Complimentary gift has an approximate value of more than $150. Complimentary gifts cannot be returned for refund, credit, or exchange. The complimentary gift will be added to your shopping bag when you reach the minimum purchase threshold of $125. Gift cards/certificates, backordered items, out of stock items, and items marked "This item requires special handling" are not eligible for this offer. A minimum purchase does not include shipping charges or applicable tax. Void where prohibited by law. We may make changes to or terminate this offer at any time. Your use of this site shall be deemed as your acceptance of Beauty.com's Terms of Use.
**Free 1-3 day shipping is available only on purchases of $35 or more, and does not apply to gift cards/certificates, bulk orders, or orders over 20 pounds. With drugstore.com dollars™, customers receive a credit to their account equal to 5% of any eligible purchase. Customers cannot earn or apply drugstore.com dollars™ to gift certificates, gift cards, discounts, complimentary items, past purchase, or non-shipped, undeliverable or returned items. drugstore.com dollars™ cannot be redeemed for cash. These offers are only available on the http://www.drugstore.com and http://www.Beauty.com web sites. These offers are not available on partner sites such as Walgreens.com and VisionDirect.com.
***All Beauty.com purchases are backed by our 100% satisfaction guarantee. If you are not satisfied with an item you have purchased from Beauty.com, you may return it within 30 days of the date it was delivered and receive a refund or in-store credit. Certain items, such as jewelry, purses, and intimate apparel, can only be returned for refund or credit if unworn, are in original packaging and have any original tags still attached.
About Beauty.com® – The World of Beauty Online®
Beauty.com, Inc., a division of drugstore.com, inc. is a leading online destination for prestige beauty
products. The web store provides a highly personalized shopping experience and offers more than 375 brands from widely recognized to niche, hard-to-find products.
About drugstore.com™
For 15 years, drugstore.com has been a leading online provider of health, beauty, and vision products. Shop a great assortment of more than 80,000 items ranging from everyday basics to hard-to-find favorites. With competitive prices, unique categories and free 1-3 day shipping for orders over $35 all in one convenient location, the drugstore.com web store is truly the uncommon drugstore®.
About MILLY
The MILLY Collection, founded and designed by Michelle Smith, defines luxurious, advanced contemporary fashion with a feminine edge
.
Smith's signature design technique merges American sportswear silhouettes with French atelier style. Influenced by her Parisian training at Christian Dior Haute Couture, Louis Vuitton, and Hermes, Smith's eye for impeccable detail, use of luxurious cutting-edge European fabrics and custom-made prints have made MILLY a cult favorite across the globe.
The MILLY collection is sold at Milly.com, flagship boutiques in New York City, East Hampton, Tokyo, and the Middle East, as well as luxury specialty and department stores throughout the world.
Media Contact:
Beauty.com, Inc.
Carley Partridge
425.372.3610
Carley(at)Beauty(dot)com
HL Group for MILLY
Julie Ly
212.529.5533
jly(at)hlgrp(dot)com