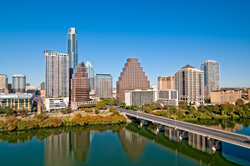 Austin is in the midst of a fierce competition among tech firms for talent and space. The intensity of the race to secure these resources rivals similar bidding environments occurring in the Bay Area of Northern California and Cambridge, Massachusetts.
Austin, TX (PRWEB) February 23, 2016
Savills Studley, the leading global commercial real estate services firm specializing in tenant representation, has released its 2015 Q4 Austin edition of the Savills Studley Office Market Report.
The quarterly report is an in-depth compilation of office leasing statistics and trends, major transactions, submarket comparisons, employment trends and investment and development trends specific to the Austin region.
Highlights from the 2015 Q4 Studley Austin Report include:

The level of office building lease activity has plunged by 15.2% with rising costs of doing business in Austin due to escalating wages and increasing rents.
With some of the lowest concession packages for an office market in the U.S., Austin landlords will provide tenant improvement allowances, however flexibility is limited to the most creditworthy tenants.
Similar to the Bay area, multiple submarkets in Austin are seeing pre-emptive strikes on space and a sharp increase in off-market deals- a sure sign that demand for space in a market that has very few big block options is still very robust.
Looking ahead, Austin's transportation infrastructure will be a threat to Austin's future economic growth, which could have a softening effect on the Austin office market. Austin desperately needs vast improvements in the capacity of roadways and mass transit.
Please click here to download the 2015 Q4 Savills Studley Austin Report, as well as a national report and reports for each of the 26 major U.S. markets.
About Savills Studley
Savills Studley is the leading commercial real estate services firm specializing in tenant representation. Founded in 1954, the firm pioneered the conflict-free business model of representing only tenants in their commercial real estate transactions. Today, supported by high quality market research and in-depth analysis, Savills Studley provides strategic real estate solutions to organizations across all industries. The firm's comprehensive commercial real estate platform includes brokerage, project management, capital markets, consulting and corporate services. With 26 offices in the U.S. and Canada, and a heritage of innovation, Savills Studley is well known for tenacious client advocacy and exceptional service.
The firm is part of London-headquartered Savills plc, the premier global real estate service provider with over 30,000 professionals and over 700 locations around the world. Savills plc is listed on the London Stock Exchange (SVS.L).
For more information, please visit http://www.savills-studley.com and follow us on LinkedIn and Twitter @SavillsStudley.