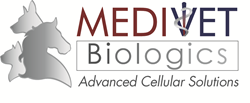 Topics will include: Immunotherapy for Canine Cancer, Stem Cell Therapy & Regenerative Scaffolds in veterinary medicine.
Lexington, KY (PRWEB) February 22, 2016
MediVet Biologics, a leader in veterinary regenerative medicine & biologic solutions, will host a symposium on Tuesday March 8th from 8:00 AM PST – Noon PST during the 2016 Western Vet Conference.
The theme of the symposium will be "moving beyond the standard of care" and will provide updated information on new cutting edge biologics for the Veterinary practitioner.
Topics will include: Immunotherapy, Stem Cell Therapy & Regenerative Scaffolds. Veterinarians can earn up to four hours of continuing education during the symposium.
Dr. John R. Yannelli, a pioneer in immunotherapy, will present evidence on a new personalized approach to canine cancer. K9-ACV, or canine autologous cancer vaccine, is a breakthrough immunotherapy service for the general practice veterinarian. This service has been designed to reach prices achievable at the general practice while providing an advanced tool to combat canine cancer. Dr. Yannelli will share his decades of experience of utilizing immunotherapy to treat human cancer as well as new data on how it translates to canine patients.
The second segment consists of new strategies in Regenerative Medicine. Dr. Michael Hutchinson will present the first US university controlled randomized double blind trial on treating canine orthopedic disease with autologous stem cells. Dr. Hutchinson will also present cases from a decade of clinical experience utilizing regenerative medicine to assist dogs, cats & horses.
Finally, Dr. Jed Johnson of Nanofiber Solutions will present evidence on combining scaffolds with biologics to improve wound healing and glimpse into the future of tissue engineering in animal health.
Veterinarians and industry attendees are encouraged to pre-register for one or all tracks of the symposium.
http://events.constantcontact.com/register/event?llr=p54i49cab&oeidk=a07ec839nm60d61c55d
About MediVet Biologics:
Founded in 2010, MediVet Biologics is a global leader in the field of Veterinary Regenerative Medicine. Since 2010, the company has continued to develop a pipeline of biologic products and services for the general practice Veterinarian. A major advancement in the field of Veterinary Medicine has been ActiStem Therapy which allows Veterinarians to treat patients with their own Adult Stem Cells (ASCs) in a same day setting.
In 2015, MediVet Biologics launched K9-ACV, or canine autologous cancer, vaccine which provides the general practice Veterinarian an immunotherapy option for canine cancer.
To learn more about MediVet Biologics, call 1.800.365.9168 or visit us at http://www.medivetbiologics.com