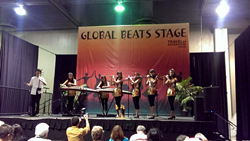 Los Angeles, CA (PRWEB) February 22, 2016
Taiwan Tourism will be joining America's most fun filled Travel and Adventure Show that takes place February 27-28 at the Long Beach Convention Center! This year, Taiwan Tourism Bureau in Los Angeles has partnered up with China Airlines, EVA Airways, Aavan Vacation, All State Travel, Globotours, SITA World Tours and Super Value Tours to showcase a brand new Oh! Bear themed Taiwan Pavilion; FASCA volunteers will also be supporting the event handing out the limited edition hand crafted Monkey lanterns to welcome attendees to the Taiwan Pavilion. The new booth design features an inviting and comfortable environment for visitors to freely inquire useful travel information as well as exclusive Taiwan tourism package discounts provided by at booth travel agencies. Do not miss out on this incredible Travel-show-only discount if you are planning on visiting Taiwan this year!
According to Mr. Brad Shih, Director of Taiwan Tourism Bureau in Los Angeles, 2015 is a fruitful year for Taiwan Tourism. The arrival of the 10 millionth tourist marked a milestone in Taiwan's tourism sector and altogether contributed NT$445 billion (US$13.56 billion) to Taiwan's foreign exchange income. This success only indicates a new beginning of the ongoing marketing effort to promote Taiwan Tourism. Taiwan Tourism is highly praised by the international press including Lonely Planet featuring Taiwan as one of the "Best valued destinations for 2015", "Where to go in 2016: Top 16 up-and-coming destinations" by CNN Travel, and "12 emerging travel destinations that you have to visit in 2016" by Business Insider. Taiwan Tourism Bureau caters to different tourists' needs and partners with quality local travel tour operators to provide customized travel packages. These tour products feature the Bureau's "Time for Taiwan" 6 major tourism themes, bringing tourists exciting experiences of Taiwanese culture, LOHAS, shopping, gourmet foods, ecological systems, and intoxicatingly romantic scenery. They are also designed along 4 major events such as the Taiwan Lantern Festival, Taiwan Summer Solstice 235, Taiwan Cycling Festival, and Taiwan Hot Spring & Fine-Cuisine Carnival. Backpackers make the best use of the Tour Taiwan Facebook fan page and online travel agencies to plan their travels utilizing the "Taiwan Tourism Events" calendar or app, Taiwan Tour Bus, Taiwan Fun Cards and Taiwan Tourist Shuttle Bus services. The goal is to make Taiwan a fun, convenient and friendly tourist destination.
Taiwan Tourism Bureau has arranged a series of Taiwan themed activities. At the Global Beats Stage, there will be Taiwanese music performance with traditional instruments, Taiwan Aboriginal dance performance, and the popular 3 Techno Princes Dance performance. Lynn Chen, the well-known Food/Travel blogger will share her culinary adventure in Taiwan and her Taiwan Culinary Expo experience at the Destination Stage. At the Taste of Travel Theater, Chef Chi and Chef Mark from the famous Mimi 5 Bobee Restaurant will demonstrate the cooking instruction of authentic Taiwanese Hakka Stir Fry and Three Cup Chicken along with tasting. These diverse experiences showcase Taiwan's multi faceted culture for all event goers to enjoy.
At the Taiwan Pavilion, there is also tasting for the authentic bubble milk tea, limited edition hand crafted Monkey lantern giveaway, photo taking opportunity with the Taiwan Oh!Bear, and the chance to win a round trip ticket from Los Angeles to Taipei sponsored by China Airlines and EVA Airways! Visit Taiwan Tourism Bureau's Facebook fan page at http://www.facebook.com/TourTaiwan to stay up-to-date on event information and redeem a free VIP pass to the show! Why wait? Hurry up and come experience the passion of Taiwan at the Los Angeles Travel and Adventure Show!