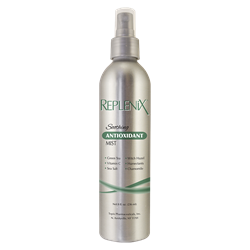 North Amityville, NY (PRWEB) March 02, 2016
Replenix® Soothing Antioxidant Mist tones, protects, and hydrates the skin. Ideal for sensitive skin and post procedure, this refreshing spray moisturizes and soothes while helping to minimize redness associated with inflammation. Plant extracts including comfrey, chamomile and lavender, known for their calming properties, provide comfort for irritated skin and promote a healthy skin balance.
This multi-functional formula is enriched with alcohol-free witch hazel to aid in the removal of excess oil and helps tighten pores. Micronutrient Sea Salt neutralizes impurities without drying, and allows skin to appear brighter and more refined.
Replenix Soothing Antioxidant Mist is loaded with antioxidants including Green Tea and Ascorbic Acid to help brighten and nourish skin while quenching harmful free radicals. Powerful humectants and emollients provide gentle hydration, uncovering a smoother, softer skin feel.
Patients are encouraged to spray as often as necessary to support post procedure healing, alleviate discomfort associated with skin irritations, refresh dull, tired skin, set or reset make up, and after cleansing or shaving.
Available in an 8 oz. spray and a welcome addition to any skin care regimen, this mist is non-comedogenic, hypoallergenic, paraben, oil, gluten and fragrance-free.
For more information, please visit http://www.topixpharm.com or call 1-800-445-2595.