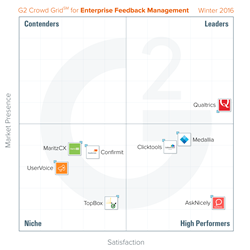 Chicago (PRWEB) February 22, 2016
G2 Crowd, the world's leading business software review platform, today released the Winter 2016 Enterprise Feedback Management Software Grid report to help businesses make the best technology decision. Qualtrics was named as the only Leader in the report, receiving strong customer satisfaction scores with a large market presence. Medallia, Clicktools, and AskNicely were named High Performers in the report, earning strong customer satisfaction marks with smaller market presence scores.
The Grid leverages customer satisfaction data reported by authenticated users along with vendor market presence determined from social and public data. Based on a combination of these scores, each software solution is categorized as a Leader, High Performer, Contender, or Niche.
Key Findings:

Balancing Act - Software vendors in this category are struggling to find a balance between collecting customer feedback data and not presenting their feedback request in an intrusive manner. Extracting more data from short surveys is a common approach to improve response rates.
Room to Improve - Users are looking in more places for customer feedback and they want their enterprise feedback management tools to adapt. A lack of social media integration was a common complaint for several products in this category.
The More You Know - Users are collecting more data from their customers, but they're unsure of how to use it. They cite a lack of training and educational resources across the category. This suggests software vendors need to teach their customers about NPS scores and how to convert customer feedback into product improvements.
About the Infrastructure as a Service Software Grid report:
The report is based on more than 150 reviews written by business professionals.
Of the roughly 57 products listed in G2 Crowd's fundraising category, the ranked products each received ten or more reviews to qualify for inclusion on the Grid.
About G2 Crowd, Inc.
G2 Crowd, the world's leading business software review platform, leverages more than 60,000 user reviews to drive better purchasing decisions. Technology buyers, investors, and analysts use the site to compare and select the best software based on peer reviews and synthesized social data. Monthly more than a half-million people visit G2 Crowd's site. Co-founded by the founder and former executives from SaaS leader BigMachines and backed by roughly $12 million in capital, G2 Crowd aims to bring authenticity and transparency to business technology research. For more information, go to G2Crowd.com.