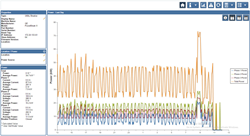 RaMP 3.6 will be on display at the Data Center World conference in Las Vegas on March 14-18.
St. Louis, MO (PRWEB) February 23, 2016
No Limits Software announces version 3.6 of their RaMP DCIM (Data Center Infrastructure Management) solution with a completely new data center view, support for many new device types (including breakers, chillers, CRAHs, and busways), enhanced alarm notification, new task and workflow functionality, data logging enhancements, and a number of other new features.
The RaMP DCIM solution provides data center management from the virtual machine to the IT infrastructure (servers, blades, storage, network) to the Facilities infrastructure (power, cooling, security, environmental monitoring). RaMP's auto-discovery allows customers to be up and running in hours rather than months, significantly reducing the time and cost for collecting the asset configuration data while also improving the accuracy by 10-15%. The intuitive user interface reduces training time. RaMP also provides software and operating system license management, state of the art workflow management to manage tasks, and contract and cost management for all assets.
RaMP 3.6 will be on display at the AFCOM Data Center World conference in Las Vegas on March 14-18.
The latest version of RaMP includes the following new features:
NEW DATA CENTER VIEW

The data center view was completely rewritten for Version 3.6 and now supports the ability to zoom and pan around the data center
Data center view provides multiple layers which can be turned on or off to better show the information that is important
Customize the data center view (below floor and ceiling assets, grid, data values, background image, labels)
Display rack utilization, power, temperature, asset type, or name
NEW DEVICE TYPES

Added support for breakers, chillers, CRAHs, and busways
Allows users to create custom BACnet and Modbus definitions
Includes the latest version of BACnet library to provide more efficient BACnet processing
Added support for the TCL protocol
Added support for integration with third party REST APIs
Added support for Tridium JACE controller
Added support for vCenter SNMP trap management
New dashboards for network storage views
Added support for equipment from F5 Networks, Nexsan, Geist, TPT, DencoHappel, Reillo, Airdale, Bomgar, and many others
ENHANCED ALARM NOTIFICATION

Ability to alarm based on the status of a logical group
Ability to escalate an alarm
Delay sending an alert, which can reduce alert traffic when a data value is fluctuating around a warning threshold
integration with Callfire phone dialing system to allow RaMP to call users to inform them of alerts
Added ability to create two-stage warnings for asset end of life
New alert dashboard provides an easy way for users to track new alerts
Allows users to un-acknowledge an alarm
WORKFLOW ENHANCEMENTS

Automatically adjust task dates based on the workflow due date
Add system-defined and user-defined fields to all tasks
Additional audit trail logging for all workflow steps
Automated workflow steps for typical tasks such as reserving space, decommissioning an asset, and auto-discovering a new asset
Allows users to attach documents to tasks and workflows
DATA LOGGING ENHANCEMENTS

Provides greater detail for all data points
"Last hour" graph added to go with the "last day", "last week", and "last month" one-click graphs
Provides easy threshold modifications for all power devices
OTHER NEW FEATURES

Ability to create both user and global ad hoc reports
New report for rack contents
Enhanced search now supports asset cost information
Added ability to attach documents to leases, purchases, and contracts
Added ability to add custom fields to logical and physical groups
Added memory monitoring for servers and virtual machines
About No Limits Software
No Limits Software is a leading provider of data center infrastructure management (DCIM) solutions, including asset and change management, capacity planning and real-time monitoring. Their RaMP DCIM solution provides auto-discovery of detailed asset configuration, reducing data collection time and cost as well as increasing the accuracy of the data.
No Limits Software solutions are fully scalable and all data is fully accessible via published web services API to provide seamless integration with existing data center management platforms.
Learn more at http://www.nolimitssoftware.com