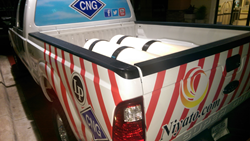 EPA/CARB Certified TRI-Fuel
Las Veges NV. (PRWEB) February 23, 2016
Take your pick: Gasoline, CNG (Methane), or LPG (Propane). Now one system does it all. Niyato Industries Inc. is ecstatic to announce its latest advancement: The first-ever Tri-Fuel system – a Ford F 350 4X4 touting all three fuel capabilities. This developmental vehicle is now undergoing rigorous testing by Keith Thompson, head of Niyato Industries' calibration and system design team. With this all-in-one system, everything you need comes in the original packaging from Niyato. No more "this kit for that application" or up-charges for longer wheel base trucks. Simple, concise, hassle-free. Keith Says "This Tri-Fuel system will operate flawlessly when testing is complete with both high and low pressure".
Other notes: The propane application of this new Tri-Fuel system will only need a different tank for propane storage and a vaporizer which can be ordered when the retrofit facility makes its order based on the fleet operator's original purchase order agreement. The EPA and CARB certification will cover all weight configurations for the Ford F 250 and Ford F 350 6.2 liter motor families. This includes, but is not limited to all Super Duty Specifications (Regular Cab, Short Bed, Extended Cab, Crew Cab, Long Bed, all weight classes from 2012 through 2016). For more information Contact Niyato Industries at upfit@niyato.com or call: 704-945-7155.
Niyato is even simplifying the ordering process as far as costs are concerned, making the pricing for the low pressure side of the system the same for all Ford F 250 and F 350 platforms. What's more, a few months back the company announced that it would be taking orders for the 2016 F150 5.0 Bi-Fuel and Dedicated (LPG or Natural Gas) Vehicles at 5% below any verified bid price by any competitor through 2017. Well, Niyato has decided to extend that 5% discount offer to the national fleet operators and add the F 250 and the F 350 to the mix.
Sure, you could call it futuristic. Even sci-fi. But it's "The Stencil Plan", as led by Niyato CEO Leslie Stencil, and it's very quickly becoming a reality. Stencil is devoted to furthering the capabilities of transportation as we know it while simplifying the customer experience overall. His mission is centered on benefiting his fellow Americans: Vehicles developed by American people, for American people, and with America's environment and future well-being in mind. As Leslie explains it, "Our goal is not remaking the wheel, but making it roll more smoothly." More smoothly, indeed. Stay tuned for more updates from this revolutionary company.
Additional Niyato is proceeding forward and is currently looking at several Public Vehicles to list the company on the OTCBB/QB, when the company's attorneys are complete with the due diligence process the company will make an announcement.
About Niyato Industries Inc.
The company was founded by Mr. Leslie Stencil through his relentless pursuit to change the way Americans think about their fuel and to give the American people a transportation fuel alternative (Natural Gas and propane).
Safe Harbor Statement – This release includes forward-looking statements within the meaning of Section 27A of the Securities Act of 1933 and Section 27E of the Securities Act of 1934. Statements contained in this release that are not historical facts may be deemed to be forward-looking statements. Investors are cautioned that forward-looking statements are inherently uncertain. Actual performance and results may differ materially from that projected or suggested herein due to certain risks and uncertainties including, without limitation, ability to obtain financing and regulatory and shareholder approvals for anticipated actions. Such statements are based on management's current expectations and are subject to certain factors, risks and uncertainties that may cause actual results, events and performance to differ materially from those referred to or implied by such statements. In addition, actual or future results may differ materially from those anticipated depending on a variety of factors, including continued maintenance of favorable license arrangements, success of market research identifying new product opportunities, successful introduction of new products, continued product innovation, sales and earnings growth, ability to attract and retain key personnel, and general economic conditions affecting consumer spending. Readers are cautioned not to place undue reliance on these forward-looking statements, which speak only as of the date hereof.
For more information please visit Niyato Industries at http://www.niyato.com.
SOURCE: Niyato Industries
Market Services
James Gaiser, CMO
US Toll Free: 800- 230-7270
International: +1 704 945-7155