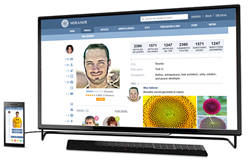 A social ecosystem of the people, by the people, and for the people.
Toronto, Ontario (PRWEB) February 23, 2016
Max Sidorov, the man who helped raise over $700,000 for bullied bus monitor Karen Klein in 2012, has launched a new alternative social ecosystem on Kickstarter. Miramir hopes to take on Facebook and other social media giants by providing a more powerful, user friendly, and privacy based alternative, and to unite the rising community of people around the globe who care not only for our freedom and privacy, but for our planet and our future as a human race.
"In a time of suppression, censorship and control, I believe our data should remain private, our freedom of speech should remain free, and the truth should not be suppressed or censored." Said Sidorov, the founder of Miramir.
Miramir is much more than just a social network:

Facebook style social network
eBay style store
YouTube style video sharing
Reddit style articles
Quora style Q and A
Meetup style groups and events
Craigslist style classifieds
Plenty of Fish style dating
Kickstarter style fundraising
Main features:

Information will never be sold, shared, or given away
Encrypted chat can be turned on with self-destructing messages
Profiles and data can be deleted forever at any time
Profiles have the option of a private pseudonym that can publish content privately without revealing the users profile and identity
Mods are voted in and out by the user community
It is free forever and users will never have to pay anything to reach their circle of friends or followers.
Updates and improvements are voted on by the user community
Cryptocurrency integration
About Miramir:
Miramir was founded by Max Sidorov in 2012 and after almost 4 years of development has launched a Kickstarter campaign to take it those last few steps to launching its first beta release. The first beta is expected during the summer of 2016. Max is a published author, entrepreneur, kinesiologist, traveler, and supporter of freedom, privacy, and truth. He believes that for the world and humanity to thrive, there needs to be an open and transparent platform where ideas, events, and people can come together and build upon each other for the sole goal of making ourselves and our earth healthy and fulfilled. He wanted to create a powerful platform where amazing people can come together, and work towards a new future for humanity.
"We want our users to be part of this project, to have a say in its development, and keep it free from unforgiving outside influence." Says Max Sidorov, founder of Miramir. "A social network of the people, by the people, and for the people."
For more information:

Contact:
Max Sidorov, Founder/CEO:
Miramir
+1 315 707 7511
Founders(at)miramir(dot)com