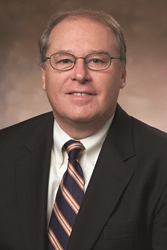 Andrew and his team are harnessing technology to serve one of our greatest purposes: educating future generations. —Kurt Landgraf
Redwood City, California (PRWEB) February 23, 2016
Today Course Hero, the leading educational technology platform for course-specific study resources and tutoring, is pleased to welcome education expert, instructor, and former CEO of Education Testing Service Kurt Landgraf to the Course Hero Advisory Board.
The board includes experts in education and technology provides a deeper understanding of the most prevalent challenges both students and teachers face in today's fast-paced academic world. With the help of Kurt Landgraf and the Advisory Board, the Course Hero team is working to address those challenges and enable students to get the most out of their education.
"We're very grateful to have such an inspiring team of experts working with us for such an important mission," said Co-founder and Course Hero CEO Andrew Grauer. "We hear about what students need directly, but in order for them to get the most out of their education, it is critical to work side-by-side with educators and technology experts as well. Our hope is to have a full spectrum of the challenges in learning and make them function better by harnessing the full capabilities of technology."
Kurt Landgraf spent 13 years as the president and CEO of Education Testing Service (ETS) and has extensive experience in economics, sociology, labor-relations management, and marketing. As an instructor at several universities across the country, including Princeton, Pennsylvania State, and Western Michigan, Landgraf has a grasp on where students are asking for the most supplemental resources, from both sides of the education system. At ETS, Landgraf oversaw the company's entrance into the K-12 market, expanded its global business, broadened its education research activities, and nurtured its social mission through collaborations with groups serving underrepresented students.
"I'm honored to join Course Hero and work with such a passionate team," said Landgraf. "My experience as both an instructor and a leader in the field of educational testing affords me a unique insight into the very real challenges faced by young people and their teachers. Andrew and his team are harnessing technology to serve one of our greatest purposes: educating future generations. It's a privilege to support their mission."
About Course Hero
Course Hero is a digital learning platform providing students with a suite of online educational resources, including crowdsourced study documents, expert tutors, and customizable flashcards. For students exploring new subjects, mastering key concepts—and everything in between—Course Hero offers essential tools to help them achieve their goals and succeed in their courses. To learn more, please visit coursehero.com.
For more information, contact:
Grayling PR
(415) 593-1400
coursehero(at)grayling.com