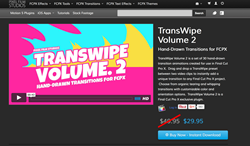 This is a great set of unique FCPX transitions.
Aliso Viejo, CA (PRWEB) February 24, 2016
TransWipe Volume 2 is a set of 30 hand-drawn transition animations created for use in Final Cut Pro X. Users can drag and drop a TransWipe preset between two video clips to instantly add a unique transition to any Final Cut Pro X project. Editors choose from organic tearing and wiping transitions with customizable color and orientation options. TransWipe Volume 2 is a Final Cut Pro X exclusive plugin.
TransWipe Volume 2's transition presets were hand-drawn by Pixel Film Studios' artists to achieve its organic look and feel. To use TransWipe, simply select a preset and drag it between two clips in the Final Cut Pro X timeline. Stretch the transition to slow the animation and shrink the preset to speed it up.
TransWipe Volume 2 features simplistic controls that allow Final Cut Pro X users to easily customize the look of transitions. Utilize color wheels and checkboxes to alter the color and the orientation of the transition respectively.
TransWipe Volume 2's simplistic style makes it an effective transition for almost any Final Cut Pro X production. Utilize TransWipe in high-energy productions, video montages, or cartoon films. Add a kinetic transition with a complementary color accent in between scenes in Final Cut Pro X.
TransWipe Volume 2 is made exclusively for Final Cut Pro X. Scroll through the TransPack Vol. 2 library and drag a preset between two video clips. Next, manipulate the parameters to achieve the desired look. Lastly, stretch or shrink the transition to change the speed of the transition animation.
Established in 2006, Aliso Viejo, California-based Pixel Film Studios is an innovative developer of visual effects tools for the post-production and broadcast community. Their products are integrated with popular non-linear editing and compositing products from Apple FCPX. Apple, the Apple logo, Mac OS X, and Macintosh are registered trademarks of Apple Inc. in the U.S. and/or other countries. All other trademarks and trade names are the property of their respective owners.