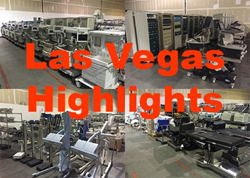 Las Vegas, Nevada (PRWEB) February 23, 2016
Location: Las Vegas Warehouse 4606 Andrews St. Suite 3, North Las Vegas, NV 89081
Auction Date: Wednesday, February 24 at 9 AM PST 
Inspection Dates: Tuesday, February 23 from 8 AM-4 PM PST
Equipment Removal: Thursday, February 25 - Friday, March 4 from 8 AM - 4 PM PST
This will be a Theatre Style and a Live Simulcast Bidding Event!

10 - HILL-ROM P3200 VERSACARE HOSPITAL BED 
9 - HILL-ROM TOTALCARE P1900 HOSPITAL BED 
34 - HILL-ROM ADVANTA P1600 HOSPITAL BED 
7 - STRYKER 3002 SECURE II HOSPITAL BED 
STRYKER RENAISSANCE 1231 STRETCHER
3 - STRYKER GLIDEAWAY 1005 STRETCHER
4 - STRYKER 1020 TRAUMA STRETCHER
STERIS HAUSTED FLUORO-TRACK SERIES STRETCHER
RITTER 307 POWER EXAM TABLE WITH FOOT CONTROL
MTI POWER EXAM CHAIR WITH FOOT CONTROL
15 - RITTER/MIDMARK 104 EXAM TABLES
HILL-ROM 2200 STABILET INFANT WARMER
AIR SHIELDS VICKERS ISOLETTE C100 INFANT INCUBATOR
OHMEDA OHIO 5000 INFANT WARMER
BAXTER INFUS OR INFUSION PUMP
SIEMENS MINIMED III INFUSION PUMP
5 - B BRAUN PERFUSOR COMPACT S INFUSION PUMP
3 - SYSMEX CA-1500 BLOOD COAGULATION ANALYZER
2 - SIEMENS RAPIDLAB 1265 BLOOD GAS ANALYZER
BECKMAN COULTER CEQ 8000 GENETIC ANALYSIS SYSTEM
ROCHE COBAS FARA CENTRIFUGAL ANALYZER
REVCO ULT2140-5-A-U-A LAB FREEZER 
6 - ALCON TURBOSONIC 375 PHACO HANDPIECES
GYRUS ACMI G400 WORKSTATION GENERATOR WITH FOOTSWITCH
2 - VALLEYLAB FORCE FX ESU 
15 – OLYMPUS VIDEO SCOPES
9 – PENTAX VIDEO SCOPES
3 - STRYKER 1188 HD ENDOSCOPY SYSTEMS
4 – KARL STORZ ENDOSCOPY SYSTEMS
10 - DATEX-OHMEDA AESTIVA 5 ANESTHESIA MACHINE
OR LIGHTS/TABLES
2 - STERIS HARMONY LA500 DUAL MOUNT OR LIGHTS WITH CONTROL BOX
STERIS AMSCO ORTHOVISION OR TABLE
2 - STERIS AMSCO 3085 SP OR TABLE WITH HAND CONTROL
STERIS AMSCO 3085 RC OR TABLE WITH HAND CONTROL
AMSCO 3080 RL OR TABLE
2 - DRAGER EVITA 4 VENTILATORS
14 - DRAGER EVITA 2 DURA VENTILATORS ON ROLLING STANDS
3 - NELLCOR PURITAN BENNETT 840 VENTILATOR WITH COMPRESSOR
3 - NELLCOR PURITAN BENNETT INFANT STAR 950 VENTILATOR ON ROLLING STAND
4 - SECHRIST IV-100B INFANT VENTILATOR ON ROLLING STAND
4 - NEWPORT HT50 VENTILATOR ON ROLLING STAND
300+ LOTS OF INSTRUMENTS
TECA SAPPHIRE 4ME EMG UNIT WITH FOOTSWITCH
BIO-LOGIC CEEGRAPH VISION EEG/EMG SYSTEM WITH ROLLING CART
NIHON KOHDEN NEUROFAX EEG/EMG SYSTEM WITH ROLLING CART
CARDIO DYNAMICS BIOZ DX ICG/ECG MACHINE WITH PHILIPS ACQUISITION MODULE ON ROLLING CART
SIEMENS BURDICK E350 ECG/EKG WITH PATIENT LEADS ON ROLLING CART
THORATEC TLC-II SYSTEM DOCKING STATION
4 - MEDTRONIC LIFEPAK 12 BIPHASIC DEFIB 
21 - PHILIPS INTELLIVUE MP70 PATIENT MONITOR
6 - PHILIPS M1026B GAS MODULE
8 - PHILIPS INTELLIVUE G5 M1019A GAS MODULE
2 - GE DATEX-OHMEDA CARDIOCAP/5 PATIENT MONITOR
3 - GE DATEX-OHMEDA S/5 LIGHT PATIENT MONITOR
100 - DATEX-OHMEDA 1011-8084-000 LCD FLAT PANEL MONITOR
GE DASH 4000 PATIENT MONITOR ON ROLLING STAND
9 - SIEMENS SC 6002XL PATIENT MONITOR
OEC SERIES 9600 C-ARM WITH DUAL MONITOR WORKSTATION, HAND CONTROL, FOOTSWITCH
OEC MEDICAL APIX Cv C-ARM TABLE WITH HAND CONTROL
AGFA DX-S CR SYSTEM
GE VIVID I PORTABLE ULTRASOUND SYSTEM WITH 2 PROBES (3S-RS, 8L-RS)
ACUSON CYPRESS PORTABLE ULTRASOUND SYSTEM WITH PROBE (3V2C)
BLADDERSCAN BVI 3000 ULTRASOUND SYSTEM WITH 1 PROBE (2MHz)
COHERENT NOVUS 2000 DF LASER WITH L10 ILLUMINATION LIGHT
2 - IRADIMED MRIDIUM MRI INFUSION SYSTEM WITH REMOTE DISPLAY/CHARGER
COEUR DUAL SHOT ALPHA INJECTION SYSTEM ON ROLLING STAND
Who is Centurion Service Group?
Centurion Service Group is the innovative company behind the world's largest used medical equipment auction house. They empower buyers to purchase from the largest inventory, with no minimum or maximum restrictions, and a fast and easy auction process. 
Based in Chicago, and with locations in Las Vegas and South Florida, CENTURION SERVICE GROUP is internationally known as an industry leader specializing in surplus used medical equipment auctions. Selling more than 100,000 pieces of medical equipment every year, they have been rated the largest medical equipment auction house in the world. Whether it is your first time bidding at an auction, or you are a long-time customer, they offer resources that will assist you during different steps of the auction process. Learn about more about: 
The auction will take place in Las Vegas on Wednesday, February 24, 2016 starting at 9:00 am PST. Registration information and the complete list of medical equipment can be found HERE!
For more information on this auction or upcoming auctions, please visit centurionservice.com or contact us at info(at)centurionservice(dot)com.