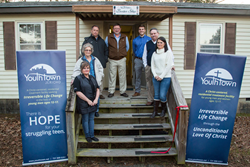 Youth Town is a great story of needed support for the youth of this area, and QMS will continue to support them in their mission.
PINSON-Tennessee (PRWEB) February 23, 2016
Sponsored by Quality Metal Stamping of Henderson, Tennessee, Youth Town's new, single-chair barbershop features a shampoo bowl, small putting green area for miniature golf and an area to watch television.
Youth Town celebrated the grand opening of its new barbershop surrounded by supporters and friends who gathered on its campus Feb. 17. Cheryl Cupples, a Quality Metal Stamping employee, is a volunteer hairstylist who visits weekly to give the young men haircuts. Cupples and many QMS employees volunteer at Youth Town's annual barbecue festival each year, also.
"The barbershop would not have been possible without Quality Metal Stamping and Cheryl's service. We are extremely grateful for the contribution and continued support for the work we do at Youth Town," said Mike Roby, director of development for Youth Town.
Robert Serling, owner of Quality Metal Stamping, said the company is committed to community service. "Quality Metal Stamping has been operating in Henderson since 1962 and has been privileged to employ so many dedicated people. Our employees and owners are inspired to give back to this community that we've been a part of for so long. Youth Town is a great story of needed support for the youth of this area, and QMS will continue to support them in their mission," Serling said.
A relative who received treatment at Youth Town inspires Cupples' service. "I know it's a good program, and I wanted to give back to the community," said Cupples, who has been a hairstylist for six years. Instead of just doling out haircuts, Cupples asks the young men to write something positive on small pieces of paper, which she later posts on the "inspiration wall."
"I want them to think of something that keeps them going every day, and it could be a quote or anything that keeps them in a positive frame of mind," Cupples said. Some of the inspirational quotes on the wall include "Positive Mind, Positive Vibes, Positive Life" and "Have you ever looked back at your past and realized it was God that kept you alive?"
Youth Town's Pinson location offers a Christ-centered, residential drug and alcohol treatment program for boys 12 to 17. Eden, Youth Town's residential program for girls, opened its Beech Bluff campus in mid-2015.
Visit http://www.youthtown.net or call 731-988-5651 for more information about Youth Town programs. Youth Town is a nonprofit, accredited residential treatment center for substance dependence.